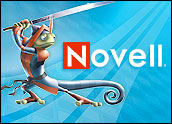 Novell, maker of infrastructure software for the Open Enterprise, opened its BrainShare 2007 conference in Salt Lake City on Monday with a wide assortment of announcements trumpeting improvements and other software solutions to its line of Linux open source applications.
From the upcoming release of the Linux Enterprise Thin Client to enhancements built into the Suse Linux Enterprise 10 Service Pack 1, as well as new security and password management products, Novell used the conference to unveil an ambitious list of changes and new releases in its technical products.
"Last year at BrainShare we previewed Suse Linux Enterprise 10, our platform for the open enterprise, which has now seen strong adoption in the market," Ron Hovespian, Novell president and CEO, said. "This year, we've got a whole series of new solutions around Linux and management that help customers leverage the power of enterprise-strength open source and provide them the tools to manage mixed-source environments.
"These solutions reduce cost, complexity and risk, giving customers more time to focus on what they really want to — innovation and growth," Hovespian added.
A Thin Client
Novell launched its most recent product, Suse Linux Enterprise Desktop, eight months ago and has seen some "great adoption" since then, Novell spokesperson Kevan Barney told LinuxInsider. However, one of the things the company saw as a result of the release was demand to implement it as a thin client solution for its customers, particularly in education.
Thin-client solutions are installed in about 20 percent of businesses, according to research cited by Laura Didio, research fellow at Yankee Group. Within those businesses, it is about 20 percent of the business of enterprise-sized accounts.
"It allows the customer to make better use of older hardware," Barney explained. "It gives them more control over the things that are deployed on these desktops and so on. It's a good option for them. And because of the demand, we decided that's something our customers need and so we decided to introduce Suse Linux Enterprise Thin Client."
The solution includes both desktop software and a toolkit to create, deploy and maintain images for diverse thin client environments, including call centers, manufacturing floor workstations and other fixed-function and transactional settings. Images can be deployed on a variety of devices, including re-purposed legacy PCs, new PCs or specialized thin-client devices, according to Novell.
"[The solution] is basically our desktop product combined with an image creation tool that our channel partners can use to customize an image of that and basically customize the configuration of the desktop that will go on the thin client devices on that machine," he stated.
Novell touts its Enterprise Thin Client solution as "the only enterprise-quality Linux solution" that provides easy configuration and management of desktop images. Novell says customers who deploy it will see lower costs, increased data security and improved manageability. The solution achieves that feat by simplifying desktop management tasks including application updates by maintaining applications on the server and at the same time increase security with central storage of sensitive data, according to Novell.
Service and Security
Novell also announced the release of the public beta of the first service pack (SP1) for Suse Linux Enterprise (SLE) 10. SP1 delivers a bevy of significant enhancements in Suse Linux Enterprise in virtualization, high performance computing, desktop usability, security interoperability and system management, the company said.
Novell said that enhanced virtualization and management mean that with the latest update to the Xen hypervisor, organizations can reduce costs through server consolidation and improved system management. An updated high-availability storage infrastructure, including cluster file management, volume manager and cluster resource manager, said the company, will provide improved support for workloads including SAP running on Oracle, DB2 and MaxDB as well as Web services and virtual image storage.
Added functionality is a result of the market's open-armed reception of SLE 10 and Novell's response to customer feedback, said Holfer Dyroff, vice president of Suse Linux Enterprise product management. "We … added new functionality that will make it easier for [customers] to take advantage of the benefits of enterprise Linux, as well as for hardware and software partners to ensure their products add maximum value to users," he stated.
Joining the College Crowd
Novell also announced that it has joined the OpenCourseWare Consortium, a global initiative of higher education institutions designed to create open educational content using a shared model. Novell is one of the first commercial enterprises to join the consortium.
The news is "critical for Linux going forward," Yankee Group's Didio stated. This will enable IT managers to become proficient on Novell's version of Linux, she added.
"In the past, my research shows that it has taken longer for businesses to recover from outages involving Linux servers — though they are very reliable. It's not because Linux is so problematic but because it is so hard to find the documentation," Didio told LinuxInsider.
Smaller companies such as Red Hat and Novell know their own software, Didio continued, but if something is happening with an Oracle database sitting atop an HP platform using another third-party application, there is no one place to go to for patch management, so correcting the problem takes longer.
"There hasn't been the documentation. There hasn't been as much uptake for IT training for Linux professionals, and that's really what is going to be needed to increase productivity and make it easier for IT managers to get a handle on this," Didio noted.
Overall, Didio greeted several of the announcements as positive steps for the open source maker.
"It's a good product," she said. "It seems that they are really undergoing a renaissance or resurgence, and we just hope they can keep it going."