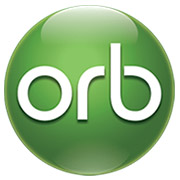 Orb Live for Android is available from the Android Market for US$9.99.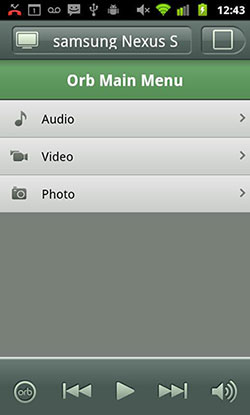 Orb Network's media server software has been around for years; in fact, Orb and TVersity are the grandparents of current media-everywhere apps. However, this is the first time Orb has officially been available in an app for Android phones.
Orb functions by grabbing indexed media content from your PC and streaming it via your ISP. A remote browser is used to pick up the stream.
It's always been possible to use a smartphone's browser to access the Orb stream, although it's been a hit-or-miss affair for various reasons, including that the media can be unplayable on the device, or the bandwidth isn't acceptable. Some early Internet tablets, like the Nokia 770, had Orb functionality — but the lazy processors back then were never capable of running video.
Finally, it looks like all the pieces might be falling into place: decent 4G bandwidth for the mobile device, dual core smartphone processors that can sync audio and video, and always-on residential broadband. I decided to give Orb another chance.
Sitting on a Bench in LA
After going through the usual separation of my hand from my money, Orb Live downloaded and launched onto my Motorola Photon dual-core smartphone flawlessly. I was presented with a step-by-step wizard that took a lot of the earlier incarnation's guess-work out of how to set everything up. First step was installing Orb Caster (the media server bit) on my PC.
I followed the install prompts. Orb Live found my existing Orb account and told me my computer didn't meet the 2.4 GHz Intel Core 2 Duo or better with 1 GB of RAM required for video streaming, but it would work with audio. If you don't have an Orb account, you're prompted to open one and enter it. Indexing is automatic.
I had decided my field test was going to be seeing if I could view the Orb-pitched, free TV streaming from Hulu on my phone without buying the paid Hulu Plus service usually required for mobile device. I would do this in Sprint 4G-friendly downtown Los Angeles, sitting on a bench. This would be a social experiment, if nothing else.
I completed the prompts on the phone and scrolled around until I came across an option to add my Hulu account. On completing the process, I received the message: "Humm, something went wrong with Orb caster (Error Code 404)." I was, and still am, mystified as to how to fix this, despite consulting Orb's Web-based Knowledgebase.
At my desk, connecting the smartphone to a WiFi network, I was able to listen to existing audio podcasts from my PC that Orb had indexed successfully, and I was able to view YouTube video, which was redundant since YouTube already has an Android app.
Everything took a long time to load onto the phone — so long that on some occasions I thought the app had crashed or the stream was unplayable.
On the Bright Side
I was never able to view free Hulu on the Downtown L.A. bench, although I did watch an M4V video from the PC — again, redundant, as there are phone-dedicated video podcast apps like MediaFly.
The quality was excellent, though, with no freezes. The Orb app had indexed my entire PC photo collection too, and I was able to see the images on the phone. Even after reboots, I was unable to play the audio podcasts via 4G that I had streamed earlier via WiFi.
I can see the benefits of this app if you have movies, music and other media on your PC, want to access it all on the road, have the latest equipment, and an inclination to play with networks — and I recommend it as a science project if you do. I was disappointed I couldn't get free Hulu on the bench — but hey, I didn't get robbed.