OruxMaps Donate,a mobile app from Jose Vazquez, is available for US$2.62 at Google Play.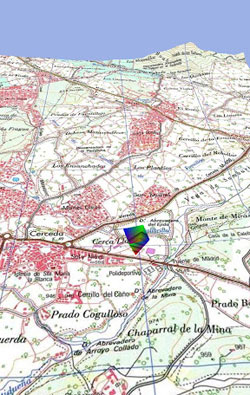 Have you ever considered becoming a cartographer? It's not as hard as you might think.
I've been trying out OruxMaps, a map viewer for Android that functions two ways. Onemode is online with the usual suspects like Google maps, OpenStreetMap, and so on; the second and more intriguing method is offline with maps you've created yourself.
Creating your own maps, while not hard, is a project. The basic concept is that you takea paper map — someone else's or your own — and scan it to a PC as an image. You thencalibrate that image with known geo-reference points that are understood by the mapviewer and its GPS.
Trip-ups stem from the fact that the Earth is round, while electronic screens and paper are flat,so you need to come to grips with projections. There are hundreds of different types of datums.
Another issue is that there are multiple ways of entering the calibration data, all subject to interpretive error. Plus, there are obvious copyright concerns if you're using someone else's map.
I've been experimenting with desktop tools like OkMap, which help the 21st century mapmaking process.
The App
Jose Vasquez's OruxMaps Donate is $2.62 in the Google Play Store. There's also a freead-supported version that you can try.
This app is a real mapmakers app. I've reviewed other map apps for LinuxInsider, including classy Backcountry Navigator, but none of those that I've seen thus far provide the map-geek flexibility of OruxMaps.
Online maps supplied with the app include Google and OpenStreetMap, as well as Chartbundle USAviation, Google Earth and niche maps like OpenPisteMap.
I counted 36 different maps, including multiple overseas maps like UK Multimap and German Hike& Bike — part of the OpenStreetMap project. All of the included maps can be cached offline.
Among OruxMaps' features: ability to display your position in 3D view; relief maps; tripcomputer; multitracking for following your friends; sharing position; barometer support;and multiple-route displays.
Neat tricks include an on-map night mode switch to dim the map and preserve night vision, plus heart-rate Bluetooth support.
Waypoint management is extremely comprehensive, with photo-waypoint functionalityand geocache-specific settings.
Making a Map
I was able to load a map of a section of Southern California that I had created in GianPaolo Saliola's OkMap for Windows, as well as one that I had made using the OruxMapsdesktop conversion tool. They look fabulous — just like commercially available online maps.
However, they both unfortunately got placed in China, within the app's scheme of things.Same latitude — different continent. This was due to a datum mismatch totally unrelatedto OruxMaps and due to my inexperience with Universal Transverse Mercator (UTM)datums. I won't bore you with the details. Suffice it to say, I need to read up on it somemore. It is a project, after all.
However, I was able to create waypoints within my maps, which was highly satisfying — despite the fact that they look as though they're on the wrong continent.
Greetings From China
Mapmaking has been an important part of mankind's development, and I recommend asojourn into mapmaking for those interested in how we got to where we are.
This is one of funnest projects I've gotten involved with through an app, and I'm lookingforward to getting the datum mismatch figured out. I intend to create a map and use it inOruxMaps for a spring Southern California desert road trip.