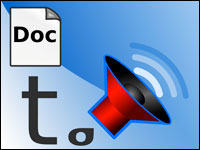 PDF to Speech, an app from Practical Apps, is available for US$2.99 at Google Play. The Classic Text-to-Speech Engine from SVOX is available for free at Google Play.I've been looking at ways to optimize the time I spend sitting in traffic. The old days when listening to the radio constituted the sum extent of productivity achieved while staring at someone else's tailgate are long gone, thanks to the smartphone.
I've already written about in-car Internet, including extending audio media like podcasts and TV audio streams to the driver's seat. In a recent column, I explained how to add a tablet to the dashboard paraphernalia.
Well, what about catching up on the written word? One memorable commute I recall some years ago involved the surprising image of a fellow commuter actually driving and reading a book at speed in a neighboring car in the No. 1 lane on the Ventura Freeway. It was one of those cartoon-like double-take moments. Fast-forward a few years.
The Apps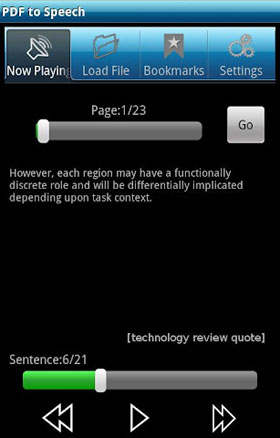 Two Android apps can be combined to allow you to listen to office documents, articles and ePubs. One is PDF to Speech from publisher Practical Apps, which grabs text and synthesizes it.
The other is Classic Text-to-Speech engine from SVOX Mobile Voices, which replaces the harsh native Android speech engine called "Pico" with a more elaborate engine that lets you choose from different, more natural, kinder-sounding voices.
The Installation
The installation process is complicated because there are three elements that need to be installed — app SVOX, a voice, and the PDF to Speech app.
Also, a number of configuration changes need to be made manually in the Android Settings, including one to replace the standard Android text-to speech with SVOX.
You will need to read the How To Use sections on the respective app websites. I tried without reading them and got lost.
Potential Problems
Some possible trip-ups include the fact that you need to purchase a voice for $2.99 (the SVOX engine is free).
You also have to go through an elaborate configuration process that includes setting the default language in the settings to the language of your purchased voice.
Language Choices
Pushing the apps to their max, I was unable to get a Finnish voice to read an American document comprehensibly.
It's fun to experiment with the different voices — trials are available for free.
Preparation Time
Loading of the file menu structure from which you can choose a file to be synthesized is slow. I tried different devices to be sure it wasn't just my kit, but both smartphone and tablet appeared to hang when creating the file structure on screen.
This latency leads me to believe that — as with my other commuter-darling, the podcast app Listen — you will need to spend a few minutes to verify files are ready to be selected, and all systems are go before you get in the car.
Managing Files
Both installations had great difficulty finding files outside of the default folder.
You may find it easier to stick the required document in the app's default folder rather than allowing the app to find cross-folders. You can use a file manager like Astro, available in Play, for this.
Voice Synthesis
Certain text sounded unnatural. Telephone number strings were not read in grouped digits, for example. The words in an email address were joined, and a suffix was read literally without a word break.
But then giving the app the benefit of the doubt, how could it not be literal? It's an app.
Text read from a PDF sounded reasonably comprehensible and quite pleasant with the more mellow-sounding SVOX add-ons. I got the gist of the documents I was having read to me.
How much I would trust the synthesis if I were a surgeon and my smartphone were providing invasive surgery instructions-to-speech? I'm not sure, as complicated words with multiple syllables were not comprehensible: "Left a bit, right a bit, insert the knife smoothly to a depth of gobbledygook."
Overall, though, I am happy to add this set of tools to my arsenal. I find the Android native voice unpleasant and will experiment with this set of apps some more.