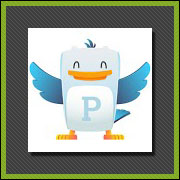 LevelUp Studio's Plume Premium for Twitter is US$4.99 at Google Play.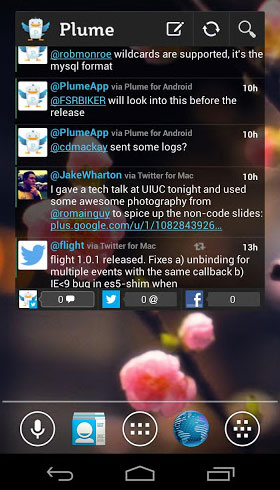 If there's one app that has been synonymous with an innovative, high-quality Twitter experience in the Android environment, it's Joaquim Verges' paid Falcon Pro. One of the killer features in Falcon Pro is its ability to live-stream a Twitter timeline.
With a 2-minute synchronize refresh rate, Falcon will live-stream your timeline in real-time when you're using WiFi. Plus, Falcon refreshes the screen, so the latest tweet is always visible. Being a newshound, this is what I want in a Twitter app.
However, that's not what not everyone wants, it seems.
"Would like if the app would save list position but this is by far the most responsive and best looking app I've used," said Falcon Pro user Michael Beltran in a Google Play user review.
The list position he refers to, I believe, is the visible part of the timeline.
Note that TweetMarker is an included marker option that forces Falcon Pro and Plume Premium to stay at the latest synced and unread tweet across devices — but it's not designed for local saving and isn't optimized to be used with live streaming, because it slows down refresh.
Beltran may be in luck, though. After shutting down your mobile device and then restarting and reopening either app, it will take you back to the last tweet that was visible — even when streaming is on. Unlike Falcon, Plume doesn't auto-refresh the actual tweets while the app is open.
It's not what I want — I want the latest delivered tweet — but it appears some like it like that. It looks like Falcon Pro may have some competition in Plume Premium for Twitter.
Another thing Plume does superbly is handle multiple Twitter accounts. Plus, it allows you to connect a Facebook account and view your Facebook timeline in a fashion similar to a Twitter feed.
I took a look at this recently updated app.
Wall of Tweets
Loading a Facebook and Twitter account into the app, I went straight for a Twitter search based on a local Trend, which I then saved.
Whizzing into the Settings, I was presented with a Manage Columns area that allowed me to choose from Timeline, Mentions and so on, plus order them on a three-panel screen. I chose Timeline, my newly saved search and Facebook.
I was very pleasantly surprised by the result. The Plume home screen populated with 16 separate tweets and Facebook posts — a packed wall of information spread out over incoming Twitter and Facebook feeds. Nice.
Streaming Issues
Try as I might, I was unable to get the app to refresh the screen automatically with real-time tweets while streaming.
Tweets loaded to the device, but it was necessary to press a refresh button to zap them into view. As I mentioned earlier, I might be the only twit who doesn't like it like that.
The streaming option does pull the latest tweets to the device, however, so there's no wait for download.
Added Features
Plume provides premium Twitter features like colorizing friends; scrollable widgets; a 1-minute sync as opposed to Falcon's 2 minutes; and muting.
It incorporates Facebook postings, as well as the previously mentioned timeline; geotagging; swipe scrolling; auto-completing hashtags; and repling to a tweet.
In Conclusion
We're beginning to see a real barrage of high-quality Twitter apps, and they all have feature sets that are geared toward slightly different styles of tweeting.
We've looked at a few of them recently, including Slices Pro that brings content discovery up close; Falcon Pro, which I still think is the best for Twitter newshounds due to its automatic screen refresh; and now Plume Premium with its wall of timelines and custom searches across social networks.
Want to Suggest a Twitter App for Review?
Let me know if there's another Twitter app you think we should be taking a look at — and let me know where you think it's angled, too.
Please send your suggestions to me, and I'll consider them for a future Android app review.