PrinterShare Mobile Print Premium Key, an app fromMobile Dynamix, is available for US$12.95 at the Android Market.We all know that the 20th century predictions of a paperless office were a pipe dream, maybe never to happen now. Digital media appear to have created more paper swirling around us, rather than less.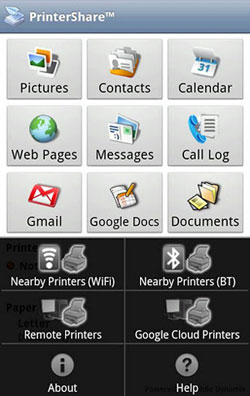 If you've been holding out for the paperless dream, forget it. Give up now, because there's currently a preponderance of smartphone apps that allow you to print directly from your Android device to any computer, near or far. I decided to check out one of them, and see how much paper I could cause to spew forth and how easily.
I chose Mobile Dynamix's PrinterShare Mobile Print because it clearly had the most features, thus create the most paper and ink. However, it is expensive, at US$12.95 for the Premium key, which you need to use the main service.
Document Types
PrinterShare provides printing support for DOC, DOCX, XLS, XSLX, PPT, PPTX, PDF, TXT documents; Web pages; images; call logs; calendar; contacts; Gmail; and Google docs.
This wide document print range is greater than that offered by competing products like Print from Eurosmartz, which is limited to Web pages, contacts, images and camera from the home page.
Other types of documents can be cumbersomely printed in Print using the "Share" function within respective apps.
PrinterShare works with printers connected by WiFi, Bluetooth, proprietary PrinterShare over the Internet, and Google Cloud Print.
Google Cloud Print Support
Google Cloud Print is supported in both the paid and free versions of PrinterShare Mobile Print. This cloud-based technology allows you to print remotely to a printer tied to your base PC.
The PC-attached printer is configured through a required Chrome browser on the PC, and appears as an available printer in the cloud — in much the same way as a Google doc file. This allows you to simply print across the Web, not just on your home network.
I recommend that you look for the Google Cloud Print feature in any print app you want to use.
Alternative Remote Printing
The PrinterShare app also supplies remote printer functionality by allowing you to search for colleagues' nearby printers that are hooked up to Mac or PC computers running Printer Anywhere's PrinterShare software.
You need to know some identifying information about the printer owner, like name or email, to perform the search for the printer.
Printing of 20 pages is included, but there are further per-page charges. Each 100 printed pages cost $4.95, or you can buy an unlimited number of pages for $9.95 a month. I think these numbers are steep, considering it's likely your electricity, hardware, paper and ink being used.
Remote Printing
Disappointingly, the PrinterShare app doesn't address the issue of how to print seamlessly on the road. You still need an app like OfficeMax's Print Center — geared toward phones — to print a document remotely at a copy shop.
Or, you need to create a PDF and email the document to the copy shop, which means you need an existing relationship with them.
I'd like to see a non-proprietary Android app that geo-finds the nearest any-chain copy shop and squirts the document at them. You simply drive over there and pick it up.
As for print quality, there was an almost imperceptible degradation in text blackness when printing a Google Doc PDF via PrinterShare to a PC-attached Dell laser printer, compared to printing the same document to the same printer directly from the PC with Adobe Acrobat Reader.
In Conclusion
The PrinterShare MobilePrint Premium app does do what it says it does, although at $12.99 you will need to be sure that you'll be taking advantage of the Printer Anywhere Internet printer search function, which is the principal differentiator from the PrinterShare app's free version.
I could see the paid PrinterShare MobilePrint app really coming into its own at the large-enterprise or government level, where tablet-toting colleagues find themselves across town, or on different office-floors from their own, needing a printer for their Android device.
It would take a concerted effort by an IT department to get the PrinterShare software loaded and maintained on all enterprise-wide printer-connected computers, though. And that's after getting the — quite possibly significant — budget approved.