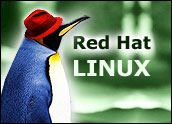 Red Hat unveiled its updated enterprise Linux distribution today and used the occasion to take a shot at rival Sun.
"It's the beginning of the end of Solaris in the enterprise," Paul Cormier, executive vice president of engineering at Red Hat, said of Enterprise Linux v4, which the company said is capable of handling any enterprise-level application.
Still in the Game
Analysts told LinuxInsider that the new release is not quite at the level of Sun's enterprise product, however.
"Sun's in a tough fight with Linux, which new advances from Red Hat certainly don't make any easier. But Solaris 10 has impressive capabilities of its own," Gordon Haff, senior analyst, Illuminata, told LinuxInsider.
Stacey Quandt, Open Source Practice Leader for the Robert Frances Group, agreed. "Although many organizations continue to migrate Solaris workloads from UltraSPARC to Linux on x86 and other platforms, the latest version of Red Hat does not eliminate the need for Solaris in the enterprise," she said.
"The performance characteristics of Solaris on AMD Opteronmanage software distribution and configuration for Solaris systems, a move it said would make it easier for IT departments to migrate from Solaris to Red Hat Linux.
Sun did not respond to LinuxInsider's request for a comment.
Haff and Quandt agreed that Red Hat Linux v4, based on the Linux 2.6 kernel, narrows the gap between Linux and Unix in the enterprise because of improvements in scalability, manageability and performance. Those improvements are due mainly to the improved kernel.
Late to Market
Novell released its Linux OS based on the kernel in August, although Red Hat's delay did not seem to hurt the company.
"Red Hat took some criticism for being this long to fully incorporate the 2.6 kernel in their enterprise products, but they've held onto their considerable market share quite nicely," Haff said.
Red Hat's release also includes support for Security Enhanced Linux (SELinux) and the open-source browser Firefox. The OS is available on 64-bit Intel XeonTM and Itanium-based systems, AMD64, IBM POWERz-Series and S/390 and other x86 systems.