Relax and Sleep Plus,a mobile app from Mizu Software Solutions, is available for US$2.00 at Google Play.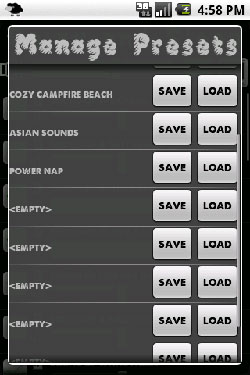 Relax and Sleep Plus lets you choose and play ambient sounds that might help you sleep.
I tried this app during a grueling jet-lagged visit to London. The UK has a seven-hour time difference from Los Angeles, which is my home base, so my day started there just as I normally would be going to sleep. Seven o'clock in the morning, London time, is midnight in California.
For me, the net result of the time change was sleeplessness in the dead of local night.
Relax and Sleep Plus pitches itself as a sleep aid. I was keen to see if it could alleviate some of my ceiling-staring agony.
How It Works
It's useful to understand how sound functions to come to grips with how this app theoretically works.
Sound, just like light, radio and the stuff in the sea, is a wave. It's an oscillation through amedium — in this case air. It has a period and a size called the "wavelength."
Without going into too much science-speak, the way people experience sound — generally, and depending on the wave's frequency — is that a louder sound will wash out a quieter sound. You'll only be aware of the louder sound.
Interestingly, this is different from the way we experience light. When you add two chunks of similarlight, you get double the light. For example, two headlights on a car provide more white light than one headlight.
Generally, sound doesn't do that — the louder wave wins. It all has to do with frequencies and wavelengths.
Anyway, that's why you can drown out one sound with another. Plus, if you start fiddling with the frequencies, you can start targeting certain annoying frequencies, essentially canceling them out. An example would be the sound of heavy rain blocking out a distant air conditioner.
Relax and Sleep Plus provides a large-enough set of customizable ambient sounds that you should be able to find one that not only cancels out an existing ambient sound's frequency, but also affects you as soothing, and therefore conducive to sleep. Nature sounds vs. traffic noise, say.
Bird Song
My problem was the dawn chorus in leafy Britain. Birds, unfortunately for cross-time zone travelers like me, sing at or before dawn to announce their territories.
They do it before dawn partly because it's too dark for them to forage, thus they havea bit of spare time then. Plus, in my humble opinion, they also perform before dawnbecause they know it's too dark for them to be shot at by irritated, sleep-starved humans.
Relax and Sleep Plus' 31 sounds include object sounds like a gurgling aquarium, a crackling campfire,a cat purring, fountains gushing and horses trotting. You'll also find nature sounds like multiple types of rain, crickets, frogs, lions, wolves and ironically, birds.
There's a mechanical dishwasher track, a vacuum cleaner, dripping water, chanting monks, wind chimes and foghorns, suggesting that not all of us relax to the pitter patter of rainfall.
I would have been happy to go out and cut down the wind chimes had they been real.
Other Features
A timer lets you set a countdown to mute, and an alarm clock is included to wake you up.Bizarrely, the alarm sound is New Age-generic. To my disappointment, there was no way I could set it to be woken up by the foghorn or whale song.
A mix function allows you to combine tracks — for example, Vacuum Cleaner with Train Travel, Owl with Chorus Frogs, or indeed Lion with Forest Birds.
Testing Fun
I had good fun playing with this app. and I can recommend it for the sleep-deprived — I did ultimately get to sleep. I was able to wash out the irritating birds with oceans and wolf howls.
That said, I spent many pre-dawn hours playing with the app, rather than sticking in some earplugs and counting sheep in a field, which might have been a faster route to slumber.
Want to Suggest an Android App for Review?
Is there an Android app you'd like to suggest for review? Something you think other Android users would love to know about? Something you find intriguing but aren't sure it's worth your time or money?
Please send your ideas to me, and I'll consider them for a future Android app review.
And use the Talkback feature below to add your comments!