Remote Web Desktop Full, an app from SmartDog Studio HK, is available for US$4.99 at Google Play.We've been seeing applications that allow you to remotely access desktop PCs for years. They have tended to function on a PC-to-PC connection basis over the Internet — like Symantec's pcAnywhere software, which is often used for remote PC troubleshooting.
More recently, we've been seeing tools that allow you to operate PCs from tablet platforms, like the $24.95 LogMeIn Ignition for Android.
However, what about the other way? What about applications for accessing your tablet, or phone from your PC? I've been craving some way to manage the Android files and system in an expansive, non-fiddly environment, like the kind I get at a desktop computer.
In fact, I'd like to be able to replicate the app experience on my Microsoft-based PC, using some of the apps from the tablet, like how I use side-loaded, phone-originating apps on my big screen TV with a Google TV box.
Mouth-Watering Feature Array
There are a few such suspects lurking in Google Play, but the one that jumped out at me is the $4.99 Remote Web Desktop Full from Smartdog Studio HK.
In addition to common file management and desktop SMS text, it includes features such as FTP server, WiFi keyboard, webcam, screen capture, contact manager, remote calling via Skype, shared clipboard, wallpaper utilities, an APK installer, personal Web server, Android logs, terminal emulator, notes shortcut, SSL HTTP, network bridge over 3G — and if you're rooted, as I am, supposedly full remote control of the Android device via PC.
The app functions by creating a desktop viewer server on the Android device. The desktop is then viewable through a web browser on the PC by entering the address in the browser address bar.
Stumbling Blocks
As I began installing the app, a scolding app error message told me I hadn't licensed it. I emailed the developer, who was in a completely different time zone and day. He fixed the problem with an updated release. Warning: This app is not an out-of-the box solution.
Diving head-first into the Beta add-on remote control element of the app that requires root, I was once again frustrated. I couldn't get it to work using my rooted Motorola Photon phone or rooted Toshiba tablet.
It did work on a Nook Color with CM7 ROM, and after some manual scaling in the Java options, I was able to see the Nook's desktop clearly within the PC's browser.
However, the mouse on the PC wouldn't map to the Android device properly, so I couldn't get apps — the ones I wanted — to open. The developer needs to do a lot more work on this admittedly Beta element.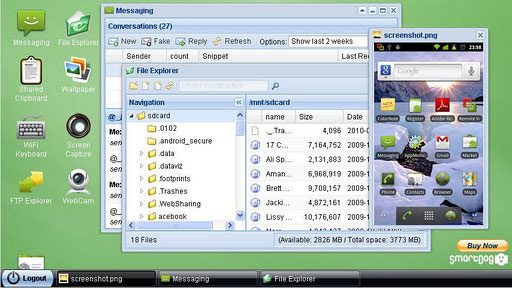 The file explorer functioned as expected, replicating on the PC any file manager that you'd see on the Android device itself. This is the spine of the product, and I couldn't fault it. However, there are other apps out there — some free, like Damian Kolakowski's Remote Desktop — that also perform this function.
Where's the Fix?
I was surprised to find myself blown away by the Remote Web Desktop webcam function, despite having no idea as to how anyone would want to use it. Clicking on the webcam icon on the replicated Android desktop within the PCs browser launched the Android device's video camera.
I was suddenly looking at an image of my tablet-grasping hand on the PC. Moving my hand from obliterating the camera lens, a pan showed the room on the PC screen. Front and back camera options exist. Tablet as baby monitor maybe?
Another intriguing feature is the Messaging element that accesses your SMS text history. You can then send and receive incoming texts via the PC's desktop. It worked flawlessly.
I tested it using 3G connectivity too, with the phone using Sprint's 3G network and the PC using a distinct hard-wired network, and I was able to send a phone-based SMS from the phone's desktop represented on the PC.
Conceivably, if you could keep it all alive, you should be able to physically locate a phone in its SIM card's native country and then send and receive texts on it using a PC located in another country, thus avoiding steep SMS roaming fees and keeping your regular local phone number. You'd make the money back on the app with a dozen texts.
Overall, I was enamored with this app. The concepts behind it are ingenious, although let down by poor documentation and overly geeky support. An issue shot to the developer was replied to with possible causes, rather than any action-oriented troubleshooting steps.
He needs to get serious about support and bug tracking if he wants to charge five bucks.