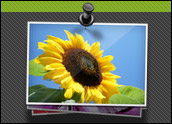 Scalado Album, an app from Scalado, is available for 99 US cents at Google Play. Have you ever found yourself scrolling endlessly around your phone's chronologically arranged photograph album — called "Gallery" in Android — looking for a photograph you've captured? If you can remember the specific place but not the date, then Scalado Album may be for you.
I say "may be" because there are some downsides to using it over the stock "Gallery" app, which I'll get to.
What It Does
Scalado organizes images based on geographic tags in addition to a classic chronological arrangement using folders. This Android app simply takes advantage of the image geo-tagging functionality prevalent in Android hardware.
I decided to give the 99 cent app a test run, because I often remember archived photographs I've taken based on location rather than time period. It seemed to me to be a major step forward if I could categorize and view by place rather than year.
To Tag or Not to Tag
First, you need to turn on the geotagging functionality in the photo capture app that you're using. Scalado will not work if the image isn't tagged at the time of capture.
This tagging issue caused major app failure for me because I have gotten into the habit of always turning off the geotagging within any image capture app. That's because the stock photography business of which I am a modest part (I make enough money to buy a camera memory card every few years) downgrades the value of images tagged with that kind of image metadata.
This may be a real consideration if you fancy yourself as a pro photographer down the line.
The Good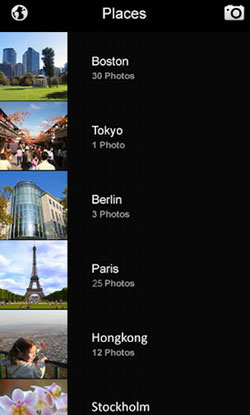 Once the images were geotagged, though, I was able to successfully find images based on nearness to my current location. Images could also be seen graphically represented on a map.
Images were also neatly classified by place name in clear text rather than in obscure latitude and longitude coding or ZIP codes, as you might expect from the geekiness that is Android development.
I was able to conveniently browse images based on month taken when using Scalado, as well.
The app generally felt quick and responsive. Zooming in on a part of an image was faster than the stock Gallery on both devices I tested it on. Pinch to zoom felt more accurate too.
The Bad
The deal breaker comes into play when you start to take a close look at the images indexed. While the app correctly classifies images based on location and date, it provides only a placeholder, rather than a thumbnail, for some images.
That was a disappointment. Images shot with app HDR Camera, for example, showed as a placeholder in the album, while images shot with the stock camera and others, including Vignette, showed successfully as thumbnails.
Missing also was any kind of aggregation of images loaded onto third-party websites like Picasa. The Toshiba Thrive tablet's stock Gallery neatly syncs Picasa and Flickr images with hardware camera images, whereas Scalado doesn't. This is an omission in a paid app.
Nor was there any folder-filtering functionality. For example, it wasn't possible to block downloaded maps used in mapping apps and saved in photo-common JPEG file format from showing up in the image library, or "album," as Scalado calls it.
I performed a test that involved capturing images on a hike where phone service was spotty. Geo-indexing wasn't possible, because the app relies on lookups, which in itself is OK and understandable.
However, there wasn't any way of kick-starting the indexing when back in civilization. A refresh button would be useful — I had to wait until the next morning to see my captured images fully indexed.
In Conclusion
I'm going to recommend Scalado, but not as a daily driver. This app is marvelous if you think you may be able to remember where — but not when — you took a geotagged shot.
It's not suitable as a generic photo viewer for regular use, though, and it will ultimately frustrate anyone but the most basic of camera app users, despite being quick.
However, if you use it for occasional retrieval of archived images based on location rather than time, it's well worth the 99 cents.