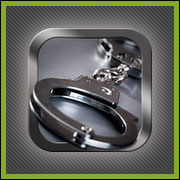 Scam Detector, an app from Scam Detector, is available for free at Google Play."My esteemed colleague, it is with much reverence that I am humbly, yet secretly,contacting you to tell you of great fortune that has come my way. My most honorablerelative has kindly left me, in his will, eighty gold bars. Unfortunately, due tocircumstances, I have to regretfully sell on the gold to a trusted overseas beneficiary…"and so on.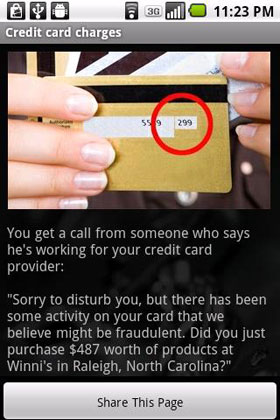 You've maybe received a variant of such an email, called "the Nigerian 419 advance feeemail scam" — 419 being a Nigerian Criminal Code related to fraud.
Nigerian 419 gets the scammed to send money, and is one of the oldest ripoffs in thebooks. Criminals have been using versions of the racket for hundreds of years.
These, and more than 550 other scams are now documented in Scam Detector, a just-released free Android app.
Space Age
The app isn't a detector in the classic "detector" sense. You don't whip out ascam detector-enabled device when you think you might be being diddled, then waveit around the alleged perpetrator, and accompanied by ethereal beeps, some kind ofmysterious radio wave detects the scam. Android's cool — but that really would be ascam.
This is a written compendium of known scams.
Scam Categories
The scams are grouped into broad categories that include automobile, face-to-face Internet and travel scams.
Subcategories include social networking, financial,employment, house and property, and online auction scams, among others.
Browsing Fun
Those categories make for fascinating browsing — like you would do with a coffee tablebook. The scams are listed along with how they work, and tips are provided to avoidgetting stung.
For example, a common "email quota exceeded" scam is listed, where a supposedInternet Service Provider writes to you along with a link. The link is a prompt to sharepersonal information, including your email password. The app provides advice to lookfor bad grammar and the use of a "Dear subscriber" salutation, rather than your name.
Travels Well
A search function ties the Scam Detector app together. The publisher pitches the app asbeing suitable for traveling, and I can see how it could be useful in that environment.
Forexample, a search for "taxi," while sprawled on the back seat of what you think is one,after a disorienting flight, finds common ride tricks, including how to spot an unlicensedtaxi — you ask at the information kioskv–vand regionally specific taxi tricks.
Country-specific searches also provide regional swindles and steps to spot them.
I was unable to get the search engine to provide results for a specific country coupledwith a mode of transport, though. You could search for "bus" or for the country, but notboth terms within the same operand.
Technical Issues
Some gripes while reviewing included a tedious "application restart is required" errormessage that appeared frequently on launch on both the phone and tablet, and a lack oflandscape orientation, which is irritating when tablet browsing.
There was also an obvious screen resolution issue on the tablet, although that didn't stopme reading. But rendering on the tablet was pretty junky looking.
Social Sharing
Social network sharing functions are included, as is a scam submission form.
Be sure youknow how the scam is performed when submitting.
In Conclusion
Simply browsing the app alone was well worth downloading it. Not being a villainor a super-cop myself, I was unable to verify that all scams in existence were indexed.However, for a good read and entertainment value alone, the app was well worth adownload.
Meanwhile, if you'll excuse me, I must go and pay the processing fee on the lottery Ijust won.