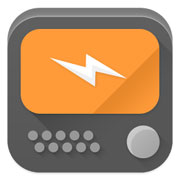 Scanner Radio Pro Android is available for US$2.99 in the Google Play store. Fire season is upon us here in Southern California, and due to the lack of rain earlier in the year, we're seeing critically low live fuel moisture. The amount of residual moisture in grasses and brush is at levels lower than we've seen in years.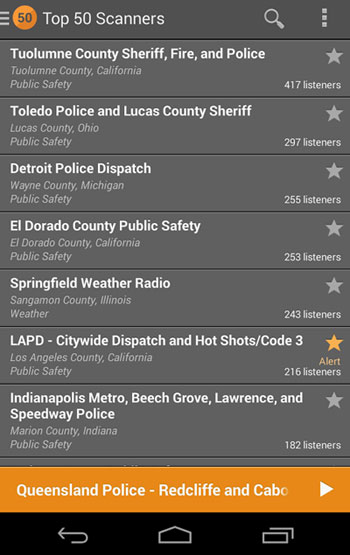 This means that those inhabiting the wildland-urban interface are on tenterhooks. That unease has many looking for tools to mitigate the danger, including ways to stay informed of fire activity.
One option is Gordon Edwards' Scanner Radio Pro Android, which provides live, Internet-streamed audio from 4,100 police and fire frequencies from around the globe.
Sorted by Distance
Historically, if you wanted to listen along to public safety radio frequencies during a local incident, you'd have had to have bought a radio scanner.
Media reports can be unreliable.
Radio Shack has always been a good source for scanners, and you can pick one up for under $100. Tuning them, though, is generally time-consuming, fiddly and prone to syntactical data-entry errors — they come blank.
Edwards' app, Scanner Radio Pro, has the advantage of providing preprogrammed, descriptively labeled public safety radio streams, sorted geographically and by genre. Scanner frequencies are sorted by distance to you, and you can add them to a Favorites list for quick access.
The audio feeds are pumped onto the Internet by volunteers who work for Broadcastify.com using actual analog and digital radio scanners.
Edwards takes those Web-available streams and repurposes them for the app.
Added features included in the Pro version include notifications based on the number of people listening to a stream. Edwards reckons that this is an indication of something big happening — like a brush fire, possibly.
Testing It Out
I had an excellent opportunity to test one of the app streams a few weeks ago, when a car fire had gotten into the brush near where I live. I subscribe to an email service from the local fire department that advises of such incidents.
Usually what I do when I get emails like that is grab a radio, select the appropriate fire department frequency and listen along in order to advise details to fellow members of my local volunteer emergency preparedness group — it's my beat.
On this day, though, I was about 100 miles up the freeway on the wrong side of a mountain range. I wouldn't be able to hear the radio incident reports because of topographic challenges.
Instead, I just opened Scanner Radio Pro, selected the label and listened to the reports via my smartphone wireless 3G connection. The app audio worked just fine; the fire department got a handle on the fire; and I ultimately carried on my merry way. Good job, everyone.
You Need Redundancy
It's worth noting, though, that one disadvantage to Internet-based public safety radio, like that provided in this app, is that in the event of a utility service outage, you won't hear the audio stream. That's something you don't have to consider with old-fashioned, propagating radio waves.
That, in turn, brings me to one of the basics when it comes to emergency preparedness: You need to build in redundancy.
Scanner Radio Pro isn't the be-all and end-all because it's dependent on Broadcastify streams, which can sometimes be down, as is the case right now with a key Los Angeles County fire frequency Internet stream.
So, you could use a radio scanner in your kit too.
In fact, the best idea if you're in a regularly disaster-challenged part of the world is probably to join, or start, a neighborhood preparedness group, if you haven't already, and pool time and resources. Scanner Radio Pro, even with its point-of-failure, will make a fine contribution to your preparations.
Want to Suggest an Android App for Review?
Is there an Android app you'd like to suggest for review? Something you think other Android users would love to know about? Something you find intriguing but aren't sure it's worth your time or money?
Please send your ideas to me, and I'll consider them for a future Android app review.