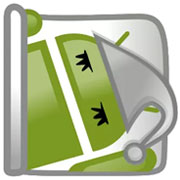 Sleep as Android is US$2.99 in the Google Play store.Here's another app that takes personal analytics to the maximum.
I've already looked at Android workout app Runtastic Pro, which allows for elaborate analytics to be run on exercise routines, conceivably enabling a honed fitness regimen.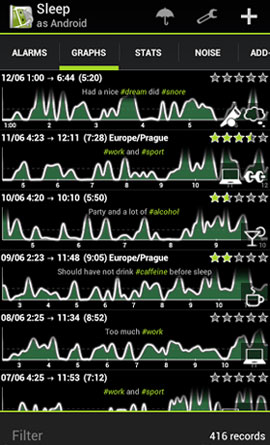 Well, here's an app that lets you do the same kind of in-depth data-crunching on another element of life: sleep patterns.
Sleep as Android is an accelerometer-based sleep cycle tracker that also includes some ingenious sleep aids.
This app takes personal analytics to the extreme — and why not? Gaining understanding of complex habits and routines like exercise and sleep is a superb use of the excessive processing power of Android phones, the latest of which are likely not using all of their available power.
What Is It?
Urbandroid, the publisher of the Sleep as Android app, explains in its pitch that normal alarm clocks don't take into account sleep cycles. They just wake you up at a preset time that ignores whether you are in deep sleep or not. Waking abruptly from deep sleep, Urbandroid says on its website, can be unpleasant and make you groggy.
This product promises to track your sleep at night and to choose the optimal, light sleeping time to wake you. Using it is comparable to waking without an alarm clock, Urbandroid says.
Features
Sleep aids like lullabies are also included. In fact, the feature set is almost more interesting than the conceivably dry sleep deficit and deep sleep tracking analytics, and the aids promise nights of fun.
Aids I have discovered thus far include an insistent time-to-bed notification — the app reckons it knows when you should go to bed; lullaby mode, with babbling brook audio and others; gentle alarms; sleep noise recording; special lucid dreaming detection audio; and a Captcha test to see if you are actually awake.
Among the add-ons I've tried is the $0.99 Sleep Lullaby pack, which features 15 different sleep environments, including "War march": soft drumming and a flute in a civil war theme. For more detailed graphical statistics there's also the $1.49 SleepStats add-on, which offers weekday/weekend filtering and heat maps to translate numbers into stunning graphs.
Testing
I had a flawless first night, but I'm going to throw in a monkey-wrench here. I believe there are some potential pitfalls in Urbandroid's thinking. The developer will likely disagree with me, but the app surely produces anomalies when you're traveling because of varying bed firmness.
If I'm sleeping on a 3-inch sofa bed mattress one day, for example, and a no-expense-spared mattress the next — as in fact I was this week — the deep sleep movement detected by the phone's accelerometer sensor has got to be different nightly, thus skewing the results. What about partner movement, for that matter?
One minor problem I encountered was that the babbling-brook-with-frogs getting-to-sleep lullaby mode got my mind wandering at the cusp of sleep and I had to force myself to concentrate on the frog ribbit rather than the gushing water — I was imagining a major mechanical failure and six inches of water covering my bedroom floor. I will try "Chants of Tibet" tonight.
Quibbles aside, however, in my first night's test I was able to produce a highly informative graph that showed deep sleep after three o'clock and an overall deep sleep percentage of 39 percent.
The timing correlates with what I felt at the time because during the early part of the night I was bothered by an incessantly buzzing mosquito and street lights. Swatting the mosquito and shutting the curtains plus snoozing the major-plumbing-failure audio — and likely tiredness by then — got me sleeping soundly during the second half of the night.
Conclusion
I am going to persist with this app. Entertainment for tonight is going to include recording my partner's snoring — she says it's me.
If you have difficulty sleeping, this app is worth a shot. A lot of imagination has gone into it, and it is based on scientifically proven methods.
It's a case of the more information you can garner about sleep habits, the more you can correct problems. I'm looking forward to seeing how my deep sleep is affected by differing sleep environments over time, for one.
Want to Suggest an Android App for Review?
Is there an Android app you'd like to suggest for review? Something you think other Android users would love to know about? Something you find intriguing but aren't sure it's worth your time or money?
Please send your ideas to me, and I'll consider them for a future Android app review.