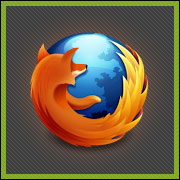 Firefox Browser for Android,a mobile app from Mozilla, is available for free at Google Play.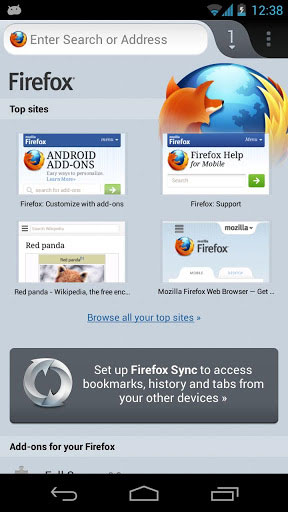 I've taken to browsing the Web with a mobile device like a duck to water, despite the generally appalling user experience.
I remember well the days of balancing hot and heavy Dell laptops on my middle, recumbent on a sofa — peering awkwardly at an obscurely angled keyboard, lap getting hotter and hotter.
Relief came when the Nokia 770 Internet Tablet debuted in the U.S. in November 2005. I thought the 4.1-inch screen Debian-modified Maemo OS device was a miracle — and it kind of was.
It weighed just 6.5 oz., and you could hold it in one hand and poke away with the included stylus with the other. WLAN Internet was delivered on an Opera browser in 800 x 480 pixels. It was sluggish at 252 Mhz, and there was no Flash, but I didn't care. It was luxury — the Internet in the palm of your hand.
It sounds clunky now, and as we all know, Apple's mobile-networked, similar-concept iPhone was released a little more than a year later in 2007. Still, I have fond memories of that little Nokia device — and I still appreciate what it taught me about mobile Web browsing.
Seamless Sync
One thing that little tablet did for me, besides cooling my lap, was make me extremely tolerant of the poor Web- browsing experience that is prevalent in the mobile environment. It taught me not to expect much but to be grateful for what I got.
I can report that if you plan on downloading Firefox for Android because you think it is going to improve the readability of Web sites on a poky screen, even in a tablet environment, it doesn't really — no more than any newer Android browser. It's OK, and fussy websites that don't render well on tablets (like USA Today — what are they thinking?) still don't render particularly well compared to the desktop experience. Get apps if you want device readability.
What Firefox for Android does, though, is bring your desktop Web browser onto your mobile device, and that's useful in itself. A seamless desktop sync is a step forward and worth trying if you are currently using Firefox on your PC. This morning, I was able to see yesterday's desktop history on my tablet and my tablet tabs on my PC. Useful.
Firefox for Android includes some pretty robust mobile privacy and security settings that will likely become increasingly important.
Privacy Focus
There is a certain amount of reassurance to be gained from using a browser that's been developed by a nonprofit and has a people-oriented manifesto. The Mozilla project is a global community that believes the Internet must remain open and accessible. It promotes models for creating economic value for the public benefit, and it has other lofty goals that one hopes means private data isn't going to get hacked, traded and sold.
Paranoia aside, it's a good bet that the transparent, decentralized, open source nature of Mozilla is good for your privacy. A Do Not Track option in the desktop version of the browser is evidence. Permissions, automatic updates, content and transport security, data encryption, plug-in safety, privacy controls and phishing and malware protection are all intrinsic parts of the product.
Firefox for Android also pitches speed as an asset. I had a problem verifying this claim, because the desktop sync was causing me to browse websites I'd bookmarked that were designed for desktop Web browsers, not ones that I've saved over the years for poky screens and sleepy processors. However, I was able to easily browse those desktop sites on the tablet — which is more than I can say for early mobile browsers — like Opera's in the 2005 Nokia.
So, we do seem to be moving forward. A clean most-visited sites area, plus desktop-like add-ons contribute to this movement. Overall, give Firefox for Android a shot if you're to-ing and fro-ing between a Firefox browser-loaded PC and an Android tablet during the course of the day. It may be the differentiator that sells you on the product.
Want to Suggest an Android App for Review?
Is there an Android app you'd like to suggest for review? Something you think other Android users would love to know about? Something you find intriguing but aren't sure it's worth your time or money?
Please send your ideas to me, and I'll consider them for a future Android app review.
And use the Talkback feature below to add your comments!