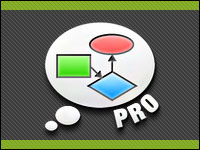 Smart Diagram Pro, an app from Sillycube, is available for US$4.30 at Google Play. The much talked about demise of the laptop in favor of tablet device, it could be argued, will be dependent on the tablet offering much of the functionality of the laptop. Gaping holes in tablet function will likely perpetuate the laptop as a tool.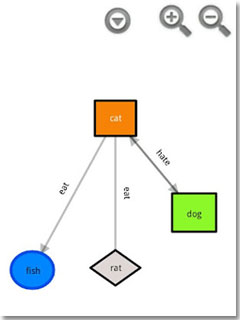 A number of work-type Android applications have successfully migrated to the tablet form: Microsoft Office-like apps that take advantage of cloud portability; a printer app that lets you use colleagues' printers as you move around an enterprise; document scanner apps that use the device's built-in cameras — and we all know about the native pinch-and-zoom tablet browser that runs rings around any laptop.
Well, here's a test. What about Visio-like diagramming? Smart Diagram Pro from Sillycube, offered for $4.30 on Google Play, is the full version of a stripped-down Smart Diagram app that lets you create diagrams on your phone and tablet. The full version removes ads, lets you create as many diagrams as you want, and also save them.
Flow charts and tree diagrams can be created. Export functions include JPG, PNG, SVG and XML. There are no import functions.
I loaded the app on a Toshiba Thrive tablet and Motorola Photon smartphone. The screen resolution was poor on the tablet, but fine on the phone.
Touch Usability
The first step of a Quick Tutorial option that presents itself when you open the app is a dead-giveaway as to how it is going to blow away any laptop. It takes advantage of the touchscreen in a way that a keyboard and mouse-driven PC would never be able to.
The first step's label reads "Long press on screen until vibrate." Well, if you go ahead and do that, it does vibrate, and further instructions dictate you draw a clockwise rectangle, which will be the first graphical entry.
I proceeded to draw the rectangle — in my case it was more of a child-like skewed circle. (Although I had a misspent youth at art school many years ago, I didn't study very hard.)
The app translated my obscure scribble into the rectangle, and the first entity of my chart was born.
Adding Entities
Adding entities is simply a matter of pressing on empty screen space and creating more drawings. I created rectangles, circles, diamonds and triangles, and labeled them "Father," "Son," "Daughter" and so on.
If the touch gesturing doesn't pick up what you're trying to achieve, you can add shapes manually through dialog boxes.
Depicting Relationships
Swiping your finger between entities draws a line — the graphical relationship between two entities. I drew a line between Father and Son and Father and Daughter.
Long pressing on an existing entity allows you to move it around the screen.
And that's it in terms of UI: Vizio, in lean-back sketchbook form.
User Settings, Exports
User settings include text and shape colors, default line colors and so on.
An export to PNG using the app's "Share" function via Dropbox and then opening the diagram with a version of Adobe Photoshop rendered well on a PC.
In Conclusion
I enjoyed the way that this diagram-creating app embraced lean-back with its touch interface. My sofa beckoned, and I was able to create a professional-looking diagram in a creative, reclined position rather than hunched over a desk. This app really took advantage of the gesture-based differences found in tablets and phones compared to that of a PC UI.
The only downside was poor tablet resolution. I'd like to see a tablet-screen compatible version introduced, although the smartphone app installed, and worked just fine on the tablet I used.
I could also see a demand for Visio import functions, which are lacking, although it didn't bother me particularly because the nature of the app lent itself to creative diagram creation, rather than tweaking existing diagrams.