Snapchat is available for free in the Google Play store.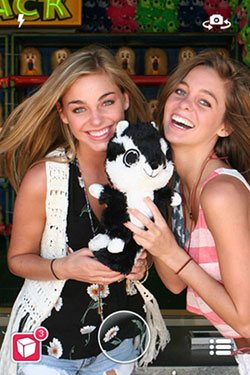 A few weeks ago I looked at Burner, an Android app that creates anonymous, disposable phone numbers for your smartphone.
Android app Snapchat is in the same arena in that it, too, provides privacy for smartphone users. The difference, however is that this app uniquely deletes MMS-like multimedia messages once they've been viewed.
It appears that you don't have to be a Tommy Lee or Pamela Anderson — who are famous at least in part for their 1997 vacation sex tape — to be in need some image-scrubbing tools.
Snapchat has had between 10 million and 50 million installs. These are numbers that suggest that privacy has a market among the proletariat too. In fact, the public may well have more need for this kind of tool than your average celebrity — since when has a celebrity's career been damaged by a questionable video or image?
The Pitch
Snapchat pitches its service as a "unique way to share life with friends," which is, I suppose a polite way of saying it's a good app if you like sexting. Sexting is the phenomenon in which friends share risqu or sexually explicit "selfie" images of each other.
Social observers argue about how prevalent sexting is among teenagers but if you did engage in the practice as a teenager — and bearing in mind celebrity sex images are often distributed by jilted partners — this could well be the app that could save your high school career.
How it Works
Recipients are selected in the Send To screen along with the duration, in seconds, that you want the image to be viewable on the recipient's screen. The recipient gets the message, at which point the sender is advised of receipt.
Snapchat reckons it has screenshot-recognition capabilities and says that it will tell the sender if it detects the receiver has taken a screenshot so as to preserve the image.
Social Implications
Snapchat's copywriters were on a roll when they wrote the marketing collateral, because Snapchat also says on its Google Play Web page that "the allure of fleeting messages reminds us about the beauty of friendship — we don't need a reason to stay in touch."
My immediate reaction to that statement was that it was a load of imaginative baloney from an ad agency trying to substantiate the app's existence.
Not so fast. In fact, in playing with the app — in a non-sexting way, I might add — I can see that the fleetingness of the images created and shared does lend a kind of casual unimportance to the communication — in a good way.
It reminds me a bit of the difference between a snail mail letter, e-mail and an SMS text. In that case, the communication has differing degrees of importance based on the expected life of the medium. We work harder on writing a letter than a text. The more formal letter has more semblance of importance, because we know it will be around longer.
The short-lived text or tweet, though, has a spontaneity and maybe even vibrancy that the stiffer letter or e-mail doesn't. We might also be more likely to say something personal, telling or off-the-cuff — not necessarily a bad thing in a friendship.
Well it's a bit like that playing with Snapchat. The images become less important than those from the old days of film, or even new, and there's something spontaneous about that.
I can see that despite the obvious uses of this app, there is some truth to Snapchat's share-a-moment rhetoric. On the other hand, parents might want to consider not providing this app for their teenagers.
Want to Suggest an Android App for Review?
Is there an Android app you'd like to suggest for review? Something you think other Android users would love to know about? Something you find intriguing but aren't sure it's worth your time or money?
Please send your ideas to me, and I'll consider them for a future Android app review.