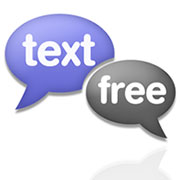 TextFree, an app from Pinger, is available for free at theAndroid Market.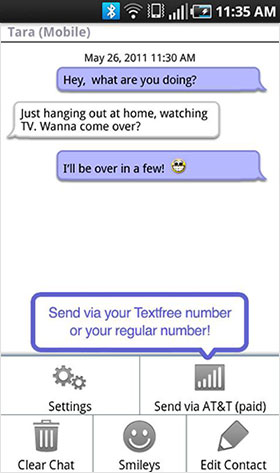 TextFree
A slew of free texting apps are out there right now, and they have the potential to cut your phone bill by enabling you to bypass your phone carrier's SMS (short message service) functions.
These third-party solutions take advantage of data networks, including the Internet, to send and receive texts, and they let you (or maybe more likely your kids) text without going through the carrier's traditional SMS cellular technology, which piggybacks on voice channels. The bandwidth used for the texts becomes an invisible part of your data package, and you can cut out specific "texting" packages, or individual text charges.
How Much?
At about 20 cents to send a text, parity to receive one, it can get expensive using the phone company's provided solution. Unlimited SMS packages are often only available on expensive, postpaid accounts, and even then they can add $20 or more to your monthly bill, which adds up.
Third-Party Solutions
One of the drawbacks to using a third-party solution, such as I've described, is that often they are only compatible with like platforms. For example, BlackBerry's BBM service only works amongst other crackberries; likewise with Apple's recently launched iMessage service that only works with Apple products.
Cross-platform apps, like Kik, often only work with other users of the app. Skype IM and Facebook Messenger also fall into this walled category. Desktop and phone/hybrid desktop solutions, like Google's Google Voice, can be one country-specific only.
The Products
I decided that I needed something more serious. I wanted to send texts free to anyone, including those on regular cellphone numbers, anywhere. I also wanted it on the Android platform.
A survey let me discount TextNow because it's iOS only. TextPlus, despite having an international version, would not let me download it in the U.S., thus was, for all intents and purposes, U.S.- and Canada-only. So that was disappointingly out of the running. GroupMe was also U.S.-only.
That left Pinger's TextFree.
Installing It
After loading the app onto my tablet and verifying that I was connected to the Internet, I opened an account and chose a 424 area code number, which is Los Angeles' latest overlay number — the Westside, and a chic number to use, if you care about such things.
I was able to send an SMS text message to my regular US Sprint phone number from TextFree. I was then able to send a text back from the Sprint phone using the Sprint SMS network to the 424 TextFree number on the tablet.
I then tested my UK, T-Mobile, +44 country-code, mobile phone, which was roaming on AT&T here in the U.S. I was able to successfully send to the roaming phone from TextFree on the tablet, and successfully replied back to the tablet's +1 country code and 424 area code via an expensive roaming text.
In Conclusion
All in all, it was a successful experiment, and I could see myself using the product and dropping an unlimited text plan — if Sprint let me. There were some peculiar screen refreshes that took place on the tablet as I was using the app. I put this down to the fact that my tablet isn't really a tablet at all. It's a rooted e-reader with a custom ROM. Pinger indicates "tablet support coming soon" within its Market description.
So I tested further using a regular Android smartphone, and this anomaly corrected itself.
Interestingly, Pinger has an option within the app's settings to either send via the TextFree number over the device's data network, as I did in the test, or send classically via the phone's regular number using the carrier's paid SMS network, which shows your cellphone number as the originating number, rather than Pinger's TextFree number. As before, you'll pay for these texts, though.
Want to Ask a Tech Question?
Is there a piece of tech you'd like to know how to operate properly? Is there a gadget that's got you confounded?
Please send your tech questions to me, and I'll try to answer as many as possible in this column.
And use the Talkback feature below to add your comments!