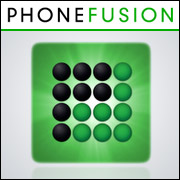 Visual Voicemail Plus, an app from PhoneFusion, is available for free at Google Play, with voice-to-text service starting at US$1.99 a month.Visual voicemail functionality is the visual element in a voicemail application that allowstext to be transcribed and displayed on the phone — or more simply, message headers, orenvelopes, are displayed textually in a list. Options often include push to email and SMS.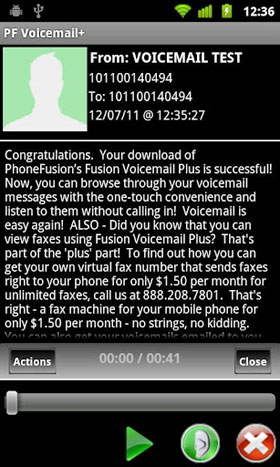 It's been around in various forms since Apple's iPhone kick-started smartphone userinterfaces into the 21st century. I've been using Google Voice's voice-to-text visualvoicemail on my Sprint phone with some success, although the transcription can be hit-and-miss.
Google's Product
I can often pick out the gist of what's in a Google voicemail. For example, "Myname is many calling from a I did get the plumbing company," is enough to tell me theplumbing company is calling me back, rather than a family member. That's even though it wasa dispatcher called Michael (with poor diction) calling, not Manny.
Despite visual voicemail's sometimes amusing drawbacks, there's no way I wantto go back to the days of the blinking light on the answering machine — or indeed, theemotionally distressing non-blinking light. In fact, the opposite applies. I'm keen to see how farvisual voicemail can go.
The Proposition
Visual Voicemail Plus for Android, published by PhoneFusion, is an intriguingproposition because it claims to manage your voicemails and your incoming faxes.
I was also keen to try out the caller-blocking feature that allows you to block specific callersfrom leaving messages. Plus, paid options include a human editor correcting errors in thetranscriptions.
Installation and Options
Downloading and installing the app from Google Play went seamlessly and, as is the casewith many of these types of services, managing the account on a PC was preferable toconfiguration via the phone.
You can really see how the UI for the Web-enabled PC is significantly more mature thanmobile UIs in general. In this case I was able to rapidly understand the various paidoptions and account settings through the PC's browser, but the phone app was fiddly andfirst-generation mobile looking, although I like the logo.
Fee-Based Services
I whipped out my bank card and chose some features: removal of ads for a one-time fee ofUS$1.99; an hour of additional storage at a monthly rate of $2.50 (30 minutes is includedfree); the cheapest of the human correction service (at $3.99 a month for 30messages a month with a maximum of 15 seconds per message and an additional $0.25for additional messages); and free fax.
The package looked expensive to me, Google Voice being free.
The Test
My transcription test would be to imitate Michael to the best of my ability, and leave thesame voicemail that he had left a few days before — the one that was garbledby Google.
I had thought about asking Michael to perform the test in-person but decidedthat it would overcomplicate matters and conceivably result in a plumber showing up at mydoor again. Or, this being Los Angeles, a billing for voiceover services being rendered.
The Results
My Michael impersonation audio came through quickly onto the Android phone,including an obvious alert in the notification tray.
The transcription took about 5 minuteslonger but was considerably more helpful than Google's. The human editor queriedwords, and used question marks to note uncertainty over anything I was saying.
It was a fair transcription based on the human's detachment from the actual scenario –waiting for a plumber to show up. A second attempt was flawless.
Test faxes sent from PhoneFusion displayed perfectly within my phone's Quickofficeapp.
I liked the integration of multiple phones into one voicemail management interface,including the theoretical integration of overseas numbers. I couldn't get the networkforwarding setup to take on a foreign SIM card within the U.S., though.
Trouble Areas
Be aware that PhoneFusion's product works using conditional call forwarding — you'redisabling your carrier voicemail in "Settings" and forwarding on busy, no answer and soon to PhoneFusion's servers.
Some phones won't do this, including some pay-as-you-go setups. I was unable toconfigure the product on the UK T-Mobile SIM card installed in a Samsung Galaxy Ywhile roaming in the U.S.; or on a U.S.-based Sprint Motorola Photon thatdidn't have call forwarding within the "Settings" menu.
An H2O pay-as-you-go SIMconfigured for PhoneFusion worked in the Samsung. H20 uses AT&T's network.
Be aware also that the call forwards can eat into your minutes. Some carriers charge forforwarded calls.