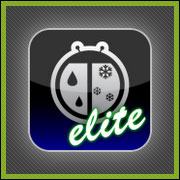 WeatherBug Elite, an app from Earth, is available for US$1.99 at Google Play.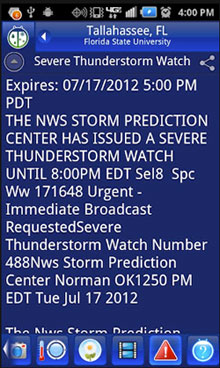 WeatherBug Elite
I picked a beautiful day to road-test Earth's WeatherBug Elite app. It was a late-summer day on which the National Weather Service had just issued a Red Flag fire weather warning for my brush-fire-prone, tinder-dry neighborhood.
Android weather app WeatherBug provides a set of current conditions, forecasts and maps. Extreme weather alerts and social network sharing functions are built-in too.
The paid $1.99 version from Google Play is ad-free.
Being a weather app skeptic, I was keen to see if WeatherBug would pick up on the obscure severe weather alert and tell me about it. Bonus points to WeatherBug — it did.
Some Background
I've always pooh-poohed commercial weather forecasts, including apps, as I have also done with local television news weather forecasts. For years I have gone to my National Weather Service website and interrogated that raw, scientific data for my weather news.
It was the blooper forecast broadcast on Oct. 15, 1987, that did it for me. BBC TV news weather forecaster Michael Fish famously denied a hurricane was barreling down on the UK, where I was based at the time.
Looking at the tight isobars on the graphic behind Fish during the piece, it was clear that even if there wasn't a hurricane on the way, there was going to be hurricane-force winds that night — tight isobars indicate a lot of wind.
Britain experienced its worst storm that night in over 300 years, and 18 people lost their lives.
As journalists, we are trained to go to the source — and the source is your local weather office, its forecasters and its computers.
So I've been dragged kicking and screaming to the metaphorical LinuxInsider App Lab to try out WeatherBug, and now calmed down a bit, can say I quite like the software.
Government websites like that of the National Weather Service are, quite frankly, awful to interact with in a mobile environment. They're clunky at the best of times on a desktop PC.
This is where apps like WeatherBug can clean up. They may not have all of the raw, nerdy numbers that are obtainable to the official forecaster, but they do present a basic, easy to understand weather forecast a whole lot better.
The App's Maps
I delved straight into the animated mapping after loading the app onto a tablet and was enamored by the graphic layers.
Layer options included common radar and satellite observation, plus more factors like temperature, humidity, wind speed and other observations, including lightening strikes.
Swaths of color with smooth transitional edging are used. This not only looks good on the screen but is clear too, and it allows for quick assimilation of the observations.
More Features
A seven-day, one-liner text forecast is accompanied by the usual icons and looks similar to what you'd get on TV news. I'd take those last two days with a pinch of salt, because in my experience weather forecasts are only accurate five days ahead — if even then.
A live weather-cam screen is tied into your set location. I found it useful on a trip because I could get a visual fix on weather back home. Blue sky and no storms corroborated the radar map — it wasn't raining.
Two minutes of national outlook weather video is delivered on demand. On the summer day I watched the feed — it was hot in the West, raining in the South and a tropical storm might turn into a hurricane. We know it's hot in the West in the summer.
The Downside
Current live conditions, like temperature and precipitation, were based on a weather station eight miles from the home location that I had set.
In this case, I know of a local government-run remote automated weather station a mile away from the home location I set. The station is accessible via the Web — including mobile Web.
That station provides live conditions much more appropriate to the set location than the WeatherBug-provided station.
In a topograhically varied environment, for example an area with flatland, mountains and oceans, eight miles can trigger considerable temperature change. This app is inaccurate, therefore, in that regard.
Bottom Line
Overall, being able to view mapped observations in a mobile environment made the app purchase worthwhile.
If you need precise forecast and observation data in topographically challenged parts of the country, there are other, better sources.