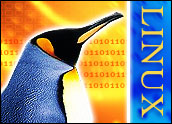 Zonbu, maker of the Zonbu Mini desktop, unveiled a new addition to its line of PCs — the Zonbu Notebook computer. The inexpensive, Linux-based laptops include a service contract, billed monthly, that takes over the tasks of backing up data and monitoring the system's security.
The new notebook PC will be manufactured by Everex and will be available in the first quarter of 2008. Although the Zonbu's software is still in beta, consumers anxious to buy the machine can pick up the notebook loaded with the beta software from the Zonbu Web site. Once the software has been finalized, systems running the beta software will automatically be updated with the final version.
Under the Hood
The Zonbu Notebook is a 5.3 lb, 15.4-inch widescreen laptop that includes a 1.5 GHz VIA C7-M low energy use, Intel-compatible processor, 512 MB of memory and a 60 GB hard drive. It also sports a DVD-ROM that does double duty as a CD-RW, a VIA Chrome 9 HC IGP 64 MB shared memory graphics card, built-in speakers as well as microphone and headphone ports.
The laptop comes with three USB 2.0 ports, built-in 10/100 Mbps Ethernet, built-in 802.11b/g WiFi and a rechargeable Lithium-Ion battery that the company said lasts up to three hours between charges.
On the software side, the Zonbu notebook operating system is also based on Gentoo's Linux operating system, as is Zonbu's Mini desktop computer. It comes loaded with 20 "best-of-breed" software applications. For online activities, the Zonbu includes the Firefox Web browser, Zonbu's Evolution e-mail and calendar program, an instant messenger that works with most IM networks, and Skype VoIP service.
Productivity software from OpenOffice.org includes a personal finance manager, word processor, spreadsheet, database and presentation software. Users can fulfill their multimedia needs with a music library, media player, photo organizer, sound recorder and recording level monitor. Enhancing photos is a snap with Image Workshop, photo editing program and then users can post their pix on the Web site they created with Web Page Editor.
Rounding out the software is a host of games — action, arcade, puzzle, shooter, simulation and mini games. Last but not least, the laptop also includes typical accessories such as a calculator, a CD-DVD creator, an image viewer, a notepad application, a screenshot snapper, a zip extractor, a dictionary, an encyclopedia and a thesaurus.
What sets Zonbu computers apart from other PCs, however, is the company's so-called hassle-free support. Laptop owners will receive free and automatic software upgrades, 50 GB of online storage, remote file access and sharing, automatic data backup, unlimited online technical support and free hardware replacement in case of damage.
The notebook is priced at US$279, and Zonbu charges an additional $14.95 monthly subscription fee for support.
As an added bonus, the Zonbu notebook has received the EPEAT silver rating from the Green Electronics Council. According to Zonbu, its laptop uses an average of 15 watts of power.
Great Day for Linux
First with its mini desktop and now with its notebook computer, Zonbu could do what traditional offerings of Linux have failed to do — attract the average consumer.
"If you're going to do Linux, I honestly think this is the way to do it. Trying to do Linux like they've traditionally done it — as a poor man's Windows — that's never going to fly, and that's going to always be compared against the product that is so far ahead in terms of software support and familiarity," said Rob Enderle, principal analyst at Enderle Group.
Zonbu has approached the task differently with "an operating system and application stack more as a service," he told LinuxInsider.
The company is ahead of the Software as a Service curve and providing a product that is "basically a services offering that is closer to what you might get from a cable company than what you would typically get from a typical PC company," Enderle explained.
If Zonbu is successful, it will build the kind of loyalty that PC OEMs have wanted for years because consumers are constantly touching Zonbu. Piracy, something companies such as Microsoft have struggled with for many years, also becomes less important because the value is in the service side, "and it's really hard to pirate a service," Enderle noted.
"If we're ever going to see a Linux desktop [or laptop] be successful it will be much closer to something like Zonbu instead of something like Linspire," he added. Zonbu, he said, is much closer to what the market needs to see from a non-Windows and non-Apple product.
The Zonbu is intended for people who need a basic system with Web access. However, as the service matures, schools and small businesses could also find their needs met by the Zonbu laptop.
"Not only do you get a relatively low initial price, you get a service that actually provides some value over the lifecycle of the offering. It's a basic, no-frills notebook, but it's not bad. It's a usable box," Enderle pointed out.
"This could be pretty handy for schools, because in many cases they cannot afford to maintain an IT organization," he said. "Fifteen dollars a month per student could be pretty attractive to them. And for small businesses, once the service is targeted for small businesses and embraces the needs of that market — and clearly it doesn't right now — it could as it matures go after those markets."