CardioTrainer, a GPS-based workout tracking application for Android by WorkSmartLabs, is available free on the Android Market.

CardioTrainer was one of the first apps I downloaded when I got my G1. If you're the outdoorsy type, it should serve your needs quite well, whether you're a cyclist, runner, hiker or just want to track your daily walks.
The application is easy to use. Launching it calls up a start screen, and pushing the "Start" button gets the timer and GPS tracker started. Just tuck the phone away and go about your business.
Lock It In
One thing to note: Make sure your phone's GPS has a lock on your position before setting off; otherwise, CardioTrainer might not track your position. It's happened to me several times before, and sometimes it takes a few minutes to get the GPS locked in. One trick I've discovered is opening the phone's native Maps application and selecting "My Location." That usually is enough to get a fix on your position.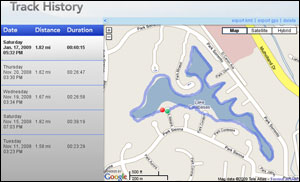 (click on image to enlarge)
When your workout is done, touch "Pause," and CardioTrainer offers the option of returning to the start menu or viewing the path you just traveled.
Selecting "View Track" brings up a map of where you've just gone. The app notes your starting and ending points and the path you followed. Push the phone's menu button, and you have the option to view statistics from your workout. It lists total distance, total time, minimum speed, maximum speed, average speed and whether you gained any altitude.
Web Client
CardioTrainer also allows you to register online and view your tracks on its Web site. In the Settings menu, there is the option to register your phone. The app generates a code, which you then use to sign in to the Web site. There, you can view the tracks you've sent from your phone and delete the ones you don't want to keep. You can set the phone to send your tracks automatically to the Web site, and it sends them each time you use the app.
There's also a Facebook app that accompanies the Android and Web points of entry. It installs pretty easily through Facebook and has about the same functionality of the Web viewer, with the exception of also broadcasting any of your workouts to your friends via your news feed.
One thing I'd like to see on the Web side of the equation is more functionality and information. The app already generates data on your speed and altitude, though there's no way as of yet on the Web client to view this data.
Also in the Settings menu is an audio notification option, which you can set for time or distance intervals. The notifications function even when you're listening to music on your phone, so you get updates mid-workout without fumbling with your phone.
Overall, CardioTrainer is an app that does what it promises and has a lot of potential for improvement. Here's hoping the developers keep on it and iron out what few kinks it has.