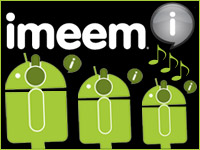 Imeem for Android is a music application from Imeem.com available for free at the Android Market.This application caught my eye as one of the early front-runners in popularity at the Android Market. I've been using it for about a month, and I listen just about daily.
As a music app, it's faster and easier to use than the music player that's built into the G1 handset. If you're more in the mood for a genre than for a specific song or artist, it's a better choice. One of the application's strengths is its buffering capabilities. You won't get any hiccups or skips in songs — even in an elevator. I've had songs restart on me once or twice after a few seconds of playing, but Imeem definitely got streaming right with this application.
Local Favorites
One of the fun features is a station that plays the songs that are currently hot in your area. One recent visit to the "Los Angeles" channel served up some fresh new Britney Spears, Kanye West and even Paris Hilton; it definitely didn't offer any music I'd actually want to listen to.
Imeem claims to customize its music feed based on your preferences. The interface on the G1 does include a "heart" button that allows you to tell it that you like the song you're hearing. But what does pushing that button do?
Imeem lacks a clear indication of how the user's input influences the music selection going forward. If I push the "heart" button, does that mean the system is learning my preferences and using that to create a better mix of music for me? I'd like to think so, but I still end up hearing roughly the same mix of music on each of the stations I listen to.
Perhaps the input is being used in a more macro fashion, such as to link bands and music styles to each other, but I want a little more.
Where's My Station?
The Imeem Android app offers the option to create a separate station based on my favorite artists, but when I go to that station, nothing plays.
This kind of feature seems to exist on the Web version of Imeem, but it hasn't translated effectively to the Android client just yet. One other thing I've noticed is that artists I set as favorites on my phone don't necessarily show up as such on the Web site.
So, while Imeem says its Android app "seamlessly integrates with features on imeem.com," I would say the seams are showing.
Still, for the way I use it — as Web radio on the go — Imeem is a worthwhile application that mixes in some new bands and additional familiar music along with the music it already knows you like.