FBook, a Facebook application for Android by Next Mobile Web, is available free from the Android Market.I admit it, I've developed a bit of a Facebook addiction. It's nothing serious — I can stop any time I want, but this app might prove to be a bit of a setback for me.
FBook is a client that offers much — but not all — of the functionality of Facebook on your G1. It offers the ability to upload photos, which you can't do through the browser because of the lack of Flash support.
Message Notification
This app also distinguishes itself with push notification of inbox messages. It also includes, through the settings feature (reachable by pressing the phone's menu button), the ability to set the frequency of checks. The more often it checks, the more battery power it uses, so if you can stand to wait a while between notifications, set it for a longer interval.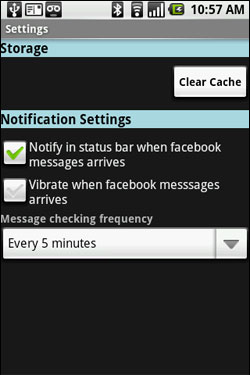 I had a little trouble getting the photo upload function to work at first, and it's an experience that is shared by many of the commenters on the Android Market.
At first, I tried to upload a photo and I received a couple of different error messages. One asked me to log on to the Facebook site to authorize FBook to post photos, and another was a server error of some sort — either way, this isn't the smoothest, but it is a nice feature to have available. It would be nice if it worked a little more reliably.
Interesting Omission
Curiously, while it allows you to upload photos, complete with captions, FBook does not include the ability to view the photos on your profile. It might be that the developers are working on that functionality, because you can see the "photos" tab in your profile view, but it's grayed out and non-functional.
The news feed you see on FBook is a watered-down version of what you'd see on the full site — no comments are displayed following your friends' status updates, and therefore you aren't able to post comments either.
Chat Silenced
Another function it lacks is chat — not something I really miss — I'm not much of an IMer, but if you use Facebook chat frequently, you will miss the ability to do that with this app.
One last nit to pick: FBook allows you to update your status, but it doesn't insert "is" like I'm used to. It makes for some goofy grammar if you're not expecting it.
All in all, FBook is a workable method for accessing Facebook on your Android phone. Its stripped-down nature results in a slightly snappier experience than if you access Facebook through the phone's Web browser. However, if it's the full Facebook experience you want, use the browser.