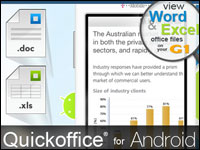 QuickOffice for Android, a productivity application by QuickOffice, is available from the Android Market for US$7.99.If nothing else, you've got to give the people over at QuickOffice credit for being early movers. They are the first to bring us an application that will open Microsoft Word documents and Excel spreadsheets on an Android-based phone. They're also the first, to my knowledge, to figure out how to reorient the screen of a G1 using only the accelerometer. More on that later.
The Android Market just recently began accepting paid applications, and this was one of the first out of the gate. I presumed that when paid Android apps finally hit the street, there would be a number of fully baked paid apps ready to go, since the date was known well in advance. That hasn't really been the case.
If you send your documents to your Gmail account, which you registered when you bought the phone, you can open the attachments directly from the email. You can also open them from your SD card using a file manager interface that opens when you start the app.
Works With Gmail
QuickOffice works as a plugin to the Gmail client on the G1, making opening attachments a one-click process. However, I was disappointed to learn that QuickOffice doesn't support OpenDocumentFormat (ODF) files, which have the .odt extension.
You'd think that an app for a phone that's based on Linux would support something more than just Microsoft's proprietary document formats. Alas, the world still hasn't learned that there even exists something other than .doc.
It took about 15 seconds for the first document, a 390 kb Excel spreadsheet, to open. When I pushed the menu button for options, I got a force close and had to reopen the spreadsheet. On some subsequent tries, it took as long as 35 seconds to open a spreadsheet.
It takes more like 10-15 seconds to open a standard Word document, which still feels like a lag to someone who's used to a more instantaneous response.
No Editing – Yet
QuickOffice only displays documents for reviewing; it does not allow editing. The BlackBerry version, which costs $39, allows plenty of functions such as editing, an enhanced file manager and Excel charts that recalculate as you change data. Maybe you can charge the BlackBerry crowd that much money since their employers probably will cover the cost anyway, but even with that much functionality, I don't think you'll see much activity if the Android version hits that same price point. Just a little something for the QuickOffice folks to consider.
There are still a few bugs. For example, I opened the keyboard while in a Word document to change the orientation, then closed it again, and the first few paragraphs displayed as if they were indented. I couldn't scroll to the right to read anything beyond the first few words of each paragraph.
Orientation Breakthrough
Then I discovered something while I was trying to figure out an answer to that problem: QuickOffice changes the orientation automatically using the accelerometer, so you don't have to open the keyboard to switch orientation. They get extra points for that, since I haven't seen any other Android app — let alone the Android OS itself — that can do that.
The orientation function was nice, but again its operation was spotty, and it did that weird indent thing to multiple documents.
While it's good to have an application — any application — that can open Word and Excel files, I don't believe this app in its current form is worth $7.99. If the price of the "premium" version for BackBerry is any indication, more functions will mean a higher price — much higher.