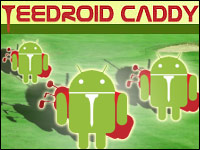 TeeDroid Caddy, an application for Android phones with versions for BlackBerry and iPhone, is available on the Android Market as a free trial. The premium services subscription costs US$19.95 per year after a two-week free trial period.

There are as many dedicated gadgets out there for golf range finding as there are gadget makers. Since I only play golf a couple of times a year, it doesn't really make sense for me to buy a $200 range finder.
TeeDroid Caddy, which costs less than 20 bucks for an annual subscription and resides on my phone — which I carry with me anyway — is just a better bargain. As noted above, there are versions for BlackBerry and iPhone as well. If they both work as well as the Android version, this application should do very well, since I bet there are a lot more golfers carrying iPhones and especially BlackBerries than G1s. Hey, I'm not stereotyping — OK, maybe I am.
Getting Started
To use TeeDroid Caddy, you download the application and set up a username and password. The app syncs with the servers and you're ready to get started. You need to download the course you're going to play and hope that it's one of the 1,698 courses that have been mapped so far.
The two courses I played, fortunately, were both mapped. It seems that the vast majority of the courses that are mapped are in the U.S., but there are a handful in Australia and Great Britain as well. They include public courses, private clubs and semi-private links.
The app uses the G1's GPS chip to monitor your location and give you the distance to the green from your current location, so it's important to establish your position, which can take a few minutes sometimes. I normally advise people to go into the phone's native Maps application, hit the menu button and select "my location" to establish a GPS lock. Once you're dialed in, it's smooth sailing.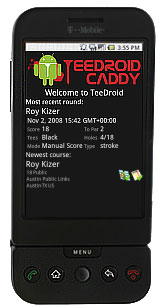 At first, I had a little difficulty navigating TeeDroid's interface. During the first round I played, I chose play-by-play scoring, which is the more advanced setting. It enables you to input the clubs you use for each shot, track the distance of every shot and really analyze your game once all the data is collected.
Trial and Error
The problem is, it requires you to stand out there next to your ball entering all this information while the other three people in your foursome — not to mention the players waiting behind you — have their patience tested.
The data you end up with when you finish your round certainly will be valuable, but you'll need to balance that against the time you take up entering it while playing. Since I was playing with my father-in-law at his club, I decided to put the phone away after a couple of holes.
The second time I played, however, I used the manual input mode, which is more akin to using a stroke counter and a range finder together. There are check-boxes for fairways hit, green in regulation, sand saves and scrambling. A video on the site explains how to use these features, and I recommend you use it first — it will save a little frustration and make things go more smoothly out on the course.
Some courses have their score cards entered into the database, and others don't. If there isn't a scorecard in the database, you won't be able to compare your score against par.
Accurate Distances
The distances TeeDroid gave me appeared to be pretty accurate. The others in my foursome said they seemed even more accurate than the painted markers and they matched almost exactly the distances given on the course's sprinkler heads.
As you might expect, the app uses quite a bit of battery power, though it made it through 18 holes while still allowing me to take two phone calls during my round (I know, how rude!). On the drive home, however, my battery found its bottom and the phone shut down.
The app lets you post your score to TeeDroid's servers, as well as to oobgolf.com. Now if only you could use it to summon the drink cart.
The end result is that I now have a GPS range finder for a $20 annual subscription, and it works just as well as a dedicated device. It surpasses many, in fact, if you choose to use the more enhanced features. Whether you're a casual golfer or someone who's really trying to dial in their game, you'll get something out of TeeDroid Caddy.
Another Useful App
I've been making a habit of noting some of the smaller apps that are available on the Android Market, and I've got another one I'd like to mention. It, too, falls into the category of elegant simplicity: OI Shopping List.
This is a shopping list app developed by OpenIntents, and it's just a basic checkbox shopping list. It lets you choose from three different themes, change the order of your list and other little tweaks. I use it every time I go grocery shopping and it keeps me on task. It probably keeps me from making about a dozen impulse buys per shopping trip, saving me money in these tough economic times.It's free and easy to use, and I highly recommend OI Shopping List.