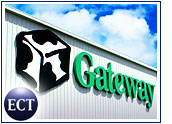 Gateway Computer today announced that its new line of retail notebooks, desktops andmonitors are now available at Micro Center's 20 stores nationwide.
The Gateway products are available at Micro Center stores and on the company's Web site, microcenter.com.
The agreement is the latest in a series of announcements by Gateway to expand the distribution of its products beyond the company's direct channels.
"Gateway's newly-established relationship with Micro Center is a very exciting one," said Bob Davidson, senior vice president of retail at Gateway. "Micro Center services millions of customers, which helps us reach abroader audience of customers looking for a great system. We're very pleased to see the Gateway brand on Micro Center shelves."
"Gateway's new PCs and monitors are an exceptional addition to our line-up of premium technology products," said Kevin Jones, vice president of merchandising at Micro Center. "These new systems suit a wide range ofcustomers who depend on us to meet their growing technology needs."
With its acquisition of eMachines now complete, Gateway is the third largest PC company in the U.S. and amongthe top ten worldwide.
Micro Center operates twenty stores in major markets nationwide.