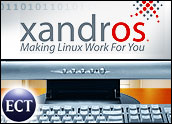 Xandros today announced the release of xDMS (Xandros Desktop Management Server) for remote management of Linux desktops for the enterprise.
The xDMS enables secure deployment, configuration, and updating for up to thousands of Linux desktops through an intuitive graphical interface.
"The deployment of secure, stable and virus-free Linux desktops is expected to quadruple in the next 12 months," said Xandros CEO Andreas Typaldos in a statement.
"We've made the decision to migrate a no-brainer with intuitive xDMS deployment and management tools that even eliminate command line complexities.
Minimal Training Required
"Time is just as critical to a small business with ten desktops as it is to the multinational enterprise with a far-flung network of thousands of clients," he said.
"The savings in down time, staffing, and licensing fees add up to a fantastic ROI."
The point-and-click graphical tools in xDMS enable departmental desktop administrators to perform a variety of tasks with minimal training and technical expertise.
These include setting up software respositories from multiple sources, creating custom configurations, performing remote OS installations and updates, and scheduling remote program execution.
Simplicity, Power
The system offers tight corporate security with its xDMS Repository Builder positioned behind a corporate firewall, not on a remote server.
Additionally, SSL encryption is employed for all transmissions over the local network.
"xDMS is as much about power as it is about simplicity. Administrators perform sophisticated tasks in a timely and less error-prone manner," said Ming Poon, Xandros VP of Software Development.