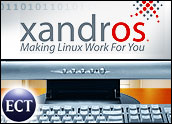 Linux distribution developer Xandros announced earlier this week that it will release localized editions of the Xandros Desktop operating system in German and French. The company plans to make the new editions available in the fall.
"We have received many requests from individuals and enterprises for localized versions of Xandros products," said Andreas Typaldos, Xandros CEO. "Europe is leading the way to Linux adoption in business and government, so it presents an exciting growth opportunity that we're anxious to exploit."
Business Edition
The New York-based company's Desktop OS provides a low-cost alternative to the Windows desktop system and includes free Skype worldwide calling as well as office suites compatible with Microsoft Office files.
Security features include Xandros Anti-Virus, the Xandros Firewall Wizard, encrypted home folders, and secure access to virtual private networks.
The Business Edition provides the ability to install and run many popular Windows programs, plus support for mass desktop deployment in networked environments through use of the Xandros Desktop Management Server (xDMS), the company said.
Heels of 3.0 Release
Earlier this month Xandros said it was ready to begin shipping version 3.0 of its Business Edition Desktop OS, claiming the latest edition would provide seamless compatibility with the latest Windows servers, including domain authentication support, logon scripts, and group policy profiles.
The software is available for purchase in retail stores and from the Xandros Web site for just under US$130.
German and French editions of the Xandros Desktop OS will have all the features of their English counterparts. Xandros released a Spanish-language version in 2003.
In announcing the latest foreign-language additions this week, Xandros said it is currently seeking German and French beta testers to assist them in fine-tuning the two new versions.