Two main representatives of the Linux community — Open Source Development Labs (OSDL) and Free Standards Group (FSG) — have merged to form the Linux Foundation. The group is supported by several major firms, including Fujitsu, Hewlett-Packard, Hitachi, IBM, Intel, NEC, Novell and Oracle, which serve as founding platinum members.
OSDL and FSG first formally discussed the idea at the OSDL meeting in Japan two months ago, and quickly approved the foundation at a special board meeting shortly thereafter, noted James Bottomley, chief technology officer for SteelEye Technology and OSDL board member.
"We are shooting for early February to have everything finalized," he told LinuxInsider.
A Go-To Organization
The speedy implementation is a reflection of the eagerness of both sides to join forces, Bottomley said.
"There will be several benefits realized from this merger," he noted, adding that the primary reason for the foundation was to act as a single voice for Linux users and providers.
"From the perspective of the kernel community, which is who I represent, the main advantage of the merger will be to have a single go-to organization," Bottomley claimed.
"The fewer, the better is true in this case," he added. This is a sentiment shared by other participants and observers of this technology.
Saving Overhead Costs
"Clearly, a trend towards a more central voice in the management and the oversight of Linux and open source makes sense," William McNee, founder and CEO of Saugatuck Technology, told LinuxInsider.
Combing resources is another driver behind the Linux Foundation's formation. A single organization will be able to better consolidate and focus the funds and investments devoted to Linux, according to Bottomley.
Cost savings in overhead and other fixed costs incurred by both organizations will also be a benefit, he said.
Late last year, OSDL eliminated a third of its staff and its CEO stepped down as part of a shift in resources, the Oregon-based organization said at the time.
Growing Use of the Technology
The consolidation of the Linux community's chief representatives comes at a key time for the technology — that is, its rapid adoption among large corporates for mission-critical applications.
By 2009, approximately 25 percent of user enterprises will be running mission-critical business application workloads on Linux environments, up from about 18 percent in 2007, according to a recent survey by Saugatuck Technology and BusinessWeek Research Services. By 2011, the report finds, the number will be greater than 45 percent.User Expectations With Regard to Supporting Mission-Critical Business Applications With a Linux environment (2007-2011)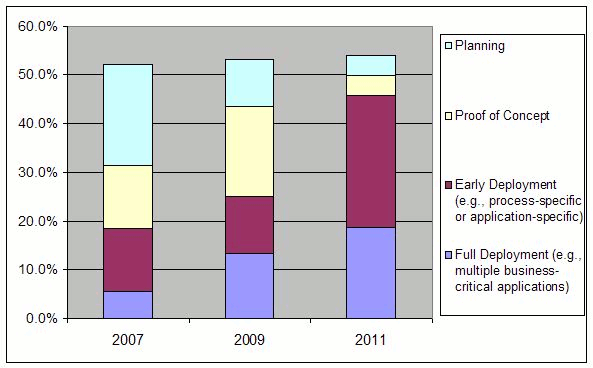 Source: Saugatuck Technology Inc. with BusinessWeek Research Services (Dec. 2006)Sample Size: N=133, 100% IT Directors, VPs, CIOs worldwide distribution
The researchers were surprised by the findings, or rather, the sharp uptick in adoption among companies, McNee said.
"It is one thing for Linux to be used in black-box, back-office operations. It is another for corporate America to be accelerating its use so quickly in core, mission critical application workloads," he noted.
One reason behind the rapid pace of adoption, McNee speculated, is that open source above Linux has become robust enough to support the more complex requirements of large companies.
"It is not just Linux but the entire open source stack that is now maturing and ripening," he added.
Now 'Legitimized'
Recent offerings by both Microsoft and Oracle — both competitors to Linux as well as, more recently, collaborators — have reinforced this notion that Linux is now enterprise-grade ready, the Saugatuck report said.
"In short, open source, especially Linux, is becoming 'legitimized' by the major vendors for enterprise environments, and user executives are more than happy to believe them," the report read.
Last October, Oracle announced plans to use Red Hat Linux as the foundation for an Oracle-branded "Unbreakable Linux."
At the same time, Oracle plans to compete with Linux, Oracle CEO Larry Ellison stated in his fall 2006 keynote at OpenWorld, by offering its own version of enterprise Linux, including free binaries and support starting at US$99 annually per machine.
Other Vendors
Other suppliers of infrastructure software and hardware, as well as the major applications vendors, need to reposition themselves to thrive as mission-critical providers of Linux, the Saugatuck report noted.
"Vendors should not merely plan to reposition themselves — they should be doing so now," the company stated.