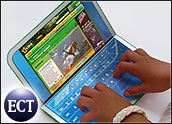 One Laptop Per Child (OLPC), the organization focused on bringing low-cost laptops to children in developing nations, announced it intends to release a newly redesigned version of the XO notebook, the XO-2, in 2010.
The second generation of the XO will include new technology to meet OLPC's goal of advancing new concepts of learning, lowering power consumption and decreasing the laptop's footprint, the organization said.
The new design will also lower the cost of the laptop, which currently costs US$188, said Jackie Luftig, an OLPC spokesperson.
$75 Target
The change was prompted by "the need to continue to drive down costs to make the laptops affordable to developing nations," she told LinuxInsider.
The new target price is $75 per machine, possible due to new developments in display, processor and other hardware and software technologies, according to OLPC.
The announcement followed news on Monday that OLPC would make a scaled-down version of Windows XP available on the XO laptop. The Microsoft partnership with OLPC disappointed many in the open source community who had backed the machine's original Sugar user interface.
XO Touch
Although the XO-2 will continue to sport the vibrant green and white case, gone is the bright green keyboard with the slightly chunky keys and traditional display screen of the original XO.
In its place are dual touch-sensitive displays intended to give children an experience analogous to reading a book. Doubling as a right and left page in vertical mode or a hinged laptop when held horizontally, the flat two-screen wide continuous surface can also be used in tablet mode.
The dual touchscreen interface, under development by Pixel Qi will allow younger children to initially use simpler keyboards; older children will be able to opt for customized keyboards geared to particular applications as well as for a variety of languages, according to OLPC.
Power Sipper
The laptop's new look will also consume less power. At 1 watt, the XO-2 has cut in half the power demands of the XO, which averaged 2 to 4 watts and already required roughly 10 percent of the wattage consumed by a typical laptop.
Reducing the amount of power required to run the laptop will also lessen the amount of time children need to generate power for the machine using the device's hand crank or other manual mechanisms.
The new design will offer children several benefits, Luftig noted.
"The XO-2 will provide a book-like experience that children will enjoy. The laptop will be lighter and easier to carry for small children and lower power consumption will be better for environments where electricity is scarce or non-existent and other modes of power generation are required," she explained.