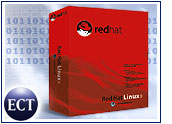 Making good on a marketing promise uttered late last year, Red Hat today is ending support for the final version of its Linux 9 product.
The Raleigh, North Carolina, Linux vendor in January stopped supporting its other legacy versions of Linux, hoping that customers would switch to the Red Hat Enterprise Linux line of products.
Some in the computer trades have portrayed the news as a sort of tragedy; it is, in fact, anything but a dirge.
Not a Funereal Moment
The company has an array of partnership projects to market its other product line. Earlier this month, Red Hat disclosed that more than 750 enterprise applications are now certified on Red Hat Enterprise Linux (RHEL).
"A strong network of partnerships with the world's leading applications vendors is vital to the adoption of Red Hat Enterprise Linux," said Mike Evans, vice president of partner Development at Red Hat.
Businesses that still require support and longer release cycles have been migrating to RHEL, which was first introduced two years ago, the company said.
"We are evaluating a Red Hat Enterprise Linux server to run our Hyperion Essbase operations with the hopes of improving efficiencies and decreasing overall costs," said Bill Glassen, director of information technology at Cashman Equipment.
Donning Fedora
Those who don't need as much support are being directed to rely on the grassroots Fedora Project, now in final testing stages of its Fedora Core 2 release. Fedora released test three this week.
The Fedora Core 2 includes an array of technical improvements, including the 2.6 Linux kernel and SELinux Security enhancements.
The Fedora Legacy Homepage registered more than 10,000 unique visitors in April. But some say full demand for support on Red Hat Linux 9 has yet to be felt.
Late last year, Red Hat launched the Open Source Architecture, designed to be a road map for customers to build secure, high-performance systems infrastructure based on open-source software. It has been moving in this direction for some time.
"We are seeing strong growth in the deployment of Linux in our customer base," Krishnan Natarajan, director of product marketing at NetIQ, said. "In particular, our Red Hat Enterprise Linux customers tell us they need to more effectively manage the service levels of their deployments. We see this as part of a trend of IT organizations to stay better aligned with shifting business demands."
Support Doubling
Red Hat Enterprise Linux has been made available on seven hardware architectures, and applications support for the platform has more than doubled.
"Customer demand has grown significantly for Intel-based, enterprise-computing solutions that run Red Hat Enterprise Linux; this growth is predicated on a need for reliable and flexible platforms for deploying applications," said Richard Wirt, senior Intel fellow and general manager of the software solutions group at Intel.
"Working together, Intel and Red Hat will work with applications vendors to accelerate solutions availability and visibility on Red Hat Enterprise Linux for servers with Intel Xeon processors and Intel Itanium2 processors."
Approaching Critical Mass
More than 200,000 subscriptions for RHEL have been sold thus far, the company said.
"Linux is approaching critical mass around the world as more and more companies realize its immense value, and in fact, Linux is one of BEA's fastest-growing software platforms," said Bob Griswold, vice president and general manager in the Java Runtime products group at BEA Systems.
"To respond to these ever-growing demands, BEA is working closely with Red Hat to offer preconfigured, production-ready solutions designed to help customers rapidly realize increased performance and dramatic price reductions for their enterprise Java applications."