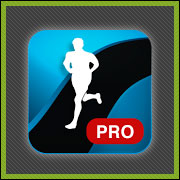 Runtastic Pro from Runtastic is $US4.99 at Google Play.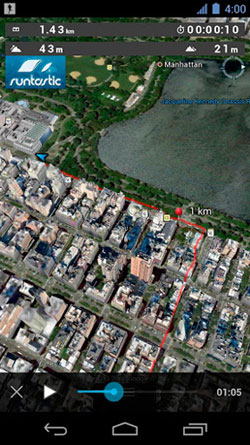 If you've used some of the free tracking apps — like Google's My Tracks, which records your path, speed, distance and elevation change while you exercise and then maps the route, charts elevation and speed, and tots it all up in a set of statistics — you'll understand the concept behind Runtastic Pro.
Runtastic Pro, however, additionally promises to help you reach goals and track health improvements.
It's the same raw data as in GPS tracker apps — distances and so on supplied by the smartphone's GPS receiver — only this app is jazzed up with social networking, audio, 3D maps, route finding, analysis and more.
As far as I can see, the idea — and it may well be a good one — is that you compile a whole load of data in an exciting interface, and that process turns boring old exercise into a data-compiling and sharing analytical metrics project, rather than just another chore.
Built-in sport and fitness activities include running, jogging, back-country skiing, biathlon, mountain biking, curling and more. Workout goals can be set by distance, time, pace and calories.
Features in the US$4.99 Pro version include voice feedback, live cheering, Google Earth three-dimensional map integration, creation and syncing of routes, and more. Paid add-ons include training plans.
The Test
I chose the hiking option and a 300-calorie workout goal before commencing my usual 40-minute end-of-day stroll on the mountain behind my home. I chose 300 calories as a target, assuming that since one beer contains 150 calories, that would allow me a couple of cans later without weight gain.
I was intrigued by the voice feedback and was eager to find out what I would hear during the course of my hike. I stuffed a can of beer in my backpack in case the feedback might be "drink one beer now," followed by live cheering. It wasn't.
What the app did tell me was how many calories I'd used, and I found that fascinating. I'd used a little more than 300 calories by the time I got back. I now intend to measure my usual neighborhood hikes and use the data to select promenades rather than just choosing on whim. The more I've eaten that day, the more aggressive a walk I'll choose — why not?
The Downsides
Disappointingly, the app proffered numerous upsells, including one not mentioned at the $4.99 point-of-sale that told me my Gold membership would expire in six days and that I needed to fork over $24.90 for a year's special features — like no advertising.
There were also numerous discipline-specific Pro apps, at $0.99 each, like Runtastic Squats, which I had no interest in. These apps might be useful if your discipline were covered, though.
Pro apps include push-ups, sit-ups, pull-ups, a pedometer, an altimeter, a heart rate monitor and a $4.99 Mountain Bike version.
The Extras
I went for the seductive Mountain Bike Pro app because it had a hill grade pie chart with distance and time uphill, flat and downhill. This is a useful feature when on two-wheels and something I've always had to guess at before. It's nice to be able to compare and select regular bike rides by grade, so you don't over exert yourself on less-fit days.
The app is similar to Runtastic Pro proper, with fewer disciplines and features — there are no workout goals. Seems a bit odd that I have to run both apps at the same time to obtain a workout goal and get a biking grade chart. The grade pie chart was missing, however, so it was a moot point.
There are also various heart-rate monitor straps that can be used, and Runtastic will sell you one on its website.
Overall Impression
I've got to hand it to the Runtastic developers. They've taken the GPS concept one step further and have made an engaging, socially networked, tracking complement to any exercise regimen.
I disliked the upselling and multiple app choices. They were unclear as to features included — and some features appeared to be missing.
Privacy settings were hard to find, and it wasn't clear off-the-bat whether, by uploading my data, I was sharing hiking routes with the Runtastic community. Being admittedly antisocial, I did find a way to restrict the data via a Facebook-like Privacy page in the end.
Want to Suggest an Android App for Review?
Is there an Android app you'd like to suggest for review? Something you think other Android users would love to know about? Something you find intriguing but aren't sure it's worth your time or money?
Please send your ideas to me, and I'll consider them for a future Android app review.