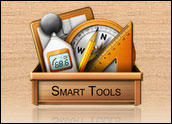 Smart Tools, an app from Smart Tools Co., is available for US$2.50 at the Android Market.I was looking for an app that would substitute for the dedicated and expensive rangefinder device that's used for judging long distances while hunting and golfing, when I came across Android Boy's remarkable all-in-one $2.50 Smart Tools. This product has taken the smartphone-as-tool concept to the next level by providing tools for length and angle; distance; compass, including metal detector; and sound, including dB meter and vibration.
The construction bubble, or spirit level, is a classic example of smartphone accelerometer technology that detects tilt in relation to the earth's ground plane.
Although my primary interest was distance, I was intrigued by Smart Tools as it brings together the accelerometer, camera, calculator and screen to make redundant a slew of classic and expensive tools.
Close Enough
I loaded the app onto a Toshiba Thrive tablet. First up was the sound meter module, which measures environmental noise in decibels using the Android device's microphone.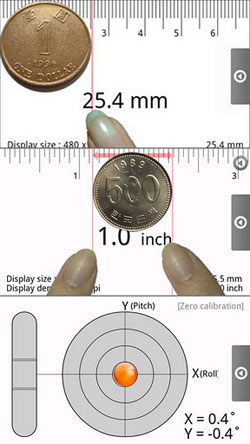 I own a dedicated RadioShack 33-2050 Sound Level Meter that I was able to use as a nonscientific comparison tool. In testing desktop PC music around 50-70 decibels, the Smart Meter and RadioShack gave same results — within the presumed evidentiary accuracy I'd estimate needed for a call to the police about obnoxious neighbors.
Bear in mind a tablet or phone microphone is designed for voice, so according to the developer, maximum possible measurements on the Android will likely be lower than on a dedicated sound level device. David, an Android Market user, reported he hasn't seen the this app read over 98 decibels, so it may not be suitable for providing documentary evidence of noisy jumbos taking off at the end of your yard.
The smart sound meter element also includes a vibration measurement tool. I'm not quite sure what you'd use it for though — earthquakes, maybe. I'll likely be looking at things other than scientific vibration measurement during the next earthquake here in Southern California — you can't save the graphs for later viewing, although it does save the maximum and mean levels.
The ruler module function involved calibration by measuring the screen width with a classic ruler and entering that data in the app settings. You then place an object to be measured on the screen and move grid guides with a screen touch.
I can see this as being useful for fine measuring of small circular, or irregular objects as screen light under and around the object makes positioning the grid lines easy. An application might include providing small-product dimensions for Web auction or shopping cart attributes.
Other features in this module include a regular protractor, and protractor with plumb line which would be great for finding out, to the nearest degree, how crooked things are that you hung on walls before buying the app. If your Android device supports multitouch, there's a caliper ruler mode too. The bubble level is three-dimensional with roll and pitch graphical representations.
No Fault
Next up was a distance test. I used a tape measure to compare. The Smart Tools telemeter distance functions use the device's camera and trigonometry. Distance, width and area can be measured, although the effective measurement distance from the device is around 1-to-50 yards, which is less than is needed for hunting and golf. GPS apps may be more suitable.
Accuracy is dependent on inputting the correct phone height from ground level and on calibration. I pointed the crosshairs within the app screen at the bottom of the wall I wanted to measure the distance to. Measurement at 22-feet was spot-on in a comparison with the tape measure. Wall height also looked right.
I left the metal detector function to last, as I didn't have a treasure-strewn beach to hand. However, on reading the documentation it became apparent that it could also be used to find wires in walls, which I tried.
The metal detector uses the magnetic sensor built into Android devices and measures magnetic field level, sometimes called "EMF." While the metal detector wasn't emphatic about confirming wire in walls, it did find the refrigerator as I walked around my kitchen, so I will mark any sensitivity anomaly down as a likely correctible calibration, or device issue, and one that if you're serious about the tool you'll be able to fix.
I'm giving this app my first ever five out of five because I couldn't find fault with the app's ingenuity or functionality. I thought the in-app portal for the modules looked hokey with its woodshop representation, but am not downgrading because of it because the module UIs themselves were clean.
A tip to the developer: Explore incorporating a simple GPS track calculation module for measuring distances greater than 50 yards.