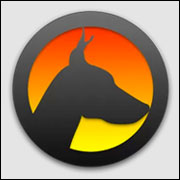 Watchdog Task Manager is available for US$3.49 in the Google Play store.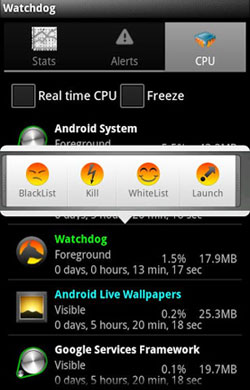 If you find yourself bashing away on your Android device and maxing it to the hilt with numerous background-running apps, there's a good chance you've encountered freezes and slowdowns.
As PC makers can attest, we're using our Android and other newer devices as laptop substitutes these days, and thrashing the phones and tablets in the process.
However, Android-based tools are available to help manage the maxing-out. I recently looked at ReChild's Advanced Task Killer Pro which helps you to clear hung apps.
Zomut's Watchdog Task Manager is in the same genre of utilities, but this app lets you monitor background apps, and see how much of your resources they are using. You can then kill if you want.
In the Background
Android devices work a little differently from PCs in memory management. Whereas PCs need memory to be manually released periodically to make room for more programs — by closing a program or rebooting — Android memory is designed to be filled at all times, with the operating system handling on-demand requests for memory.
In theory, the OS releases resources for additional programs as necessary.
What can happen in the Android environment is that background apps don't do what they are supposed to, and they can swallow resources like CPU and memory. Watchdog lets you see which apps are hogging the CPU, and it's a good bet that those are the rogue apps causing freezing and slowdowns.
Another quirk worth noting in Android is that post Android 2.2, the kill command only works on background apps, and in any case they often start again immediately. Task killers are therefore limited and really should be called "hang killers." The background app often comes right back up — working this time, you hope.
Watchdog's Tricks
A blind, random device reboot is an OK modus operandi, and it will get you through the day, but it doesn't provide intelligence on where the problem is.
Where Watchdog comes into play is that it acts as a monitor that allows you to actually see your heavy CPU-using apps and then decide whether to kill them — or probably better, delete them and move on.
In Use
I found that the best and least-intrusive alert setting was "Conservative" rather than "Moderate." In the Conservative setting, Watchdog only advises you when apps are consuming seriously excessive CPU capacity, rather than alerting you to general, normal CPU slowdowns due to heavy tablet interaction.
In fact, I was quite happy with a limited number of live alerts. Over a period of some weeks, I found I was ignoring Moderate alerts, partly because they were coming while I was in the zone and busily stabbing away.
I ended up recapping after a few days instead, and was disappointed to see the most CPU-intensive app I own is Reader+, my new fave and sublime Google Reader substitute.
Reader+ isn't crippling the machine though, and it is such a superbly powerful app that I'm not surprised it exceeds my threshold and is eating resources. I have no intention of deleting it — I'll live with it. I added it to the white list.
One neat feature available in the paid-for version I'm using is a blacklist that lets you assign one particularly naughty app to its own CPU percentage threshold. When it hits that limit, Watchdog will kill it.
In Conclusion
With Windows Task Manager, keying Control + Alt + Delete on a Windows PC lets you identify memory and CPU-hogging programs.
Watchdog does the same for Android, and in addition, it tracks it all for you.
Want to Suggest an Android App for Review?
Is there an Android app you'd like to suggest for review? Something you think other Android users would love to know about? Something you find intriguing but aren't sure it's worth your time or money?
Please send your ideas to me, and I'll consider them for a future Android app review.