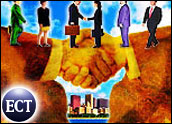 GroundWork Open Source Solutions today said it has it has secured US$8.5 million in its second round of venture capital financing. The Series B financing, led by Mayfield, includes Series A lead investor Canaan Partners.
Emeryville, Calif.-based GroundWork develops open-source products for the enterprise that enable the monitoring of network and application infrastructures at a fraction of the cost of commercial software alternatives.
GroundWork said this latest investment will be used to expand product and service offerings and build out marketing and sales programs.
Adoption Growing
According to the company, its flagship product, GroundWork Monitor, "transforms open-source software into an enterprise IT management solution" by adding functional enhancements, deployment services and technical support.
Robin Vasan, managing director of Mayfield, will join GroundWork's board of directors.
"As enterprises continue to embrace open source for more mission-critical applications, we believe GroundWork has the potential to capture a significant portion of the $7 billion worldwide IT management market," Vasan said in a statement.
Venture Community Taking Note
The venture capital community has come around to recognizing the huge market potential of open source-based businesses, according to Robert Fanini, CEO of GroundWork, particularly given estimates that Linux will power more than 20 percent of corporate servers world-wide within the next three years.
"The challenge until recently has been monetizing open source," he said. "We believe the market is now ready for companies like GroundWork that take unsupported open source components and integrate them into cost effective, enterprise-ready applications that include enhancements, support and services."