Instagram, an app from Instagram, is available for free at Google Play. Instagram, the popular photography and social networking app for the iPhone, with a whopping 27 million iOS users, recently became available for Android. Around 5 million Android users reportedly signed up for the app in the first few days of the Android release. Then social network Facebook offered US$1 billion for the company. What's going on?
I've been a big fan of photographic filter apps for phones, and I've looked in-depth at Neilandtheresa's Vignette app. I'm still a heavy user of Vignette — which I gave four-and-a-half review stars out of five — primarily because of its sophisticated post-process film and camera effects like infrared, cross-process, tilt-shift and so on.
I also love Almalence's HDR Camera+ app for vibrant, high dynamic range imaging shots.
Instagram Mania
So, what's the fuss about? Is free Instagram really that much better than these other paid-for photographic apps? Is my much-researched, 21st century dark room toolset being left in the dust by this whippersnapper?
Well, thankfully, after joining the throng this week, I can comfortably provide the answer to that question, which is "No." However, what Instagram does, and does very well, is provide the social network and social network functionality for the images created.
Installing the App
I loaded Instagram onto two devices: a Motorola Photon smartphone and 10.1-inch Toshiba Thrive tablet.
When opening an Instagram account on the Thrive — which I was able to easily access on the phone too — I was presented with prompts to add friends from my networks, including Facebook, Twitter and Google contacts — the usual suspects.
Following friends who are existing Instagram users enables your Instagram images to appear in your friends' streams, and theirs in yours.
You can also tag and search for images with Twitter-like hashtags, add geotags, and view strangers' images too.
The Concept
The idea is that as you and your friends capture images and add filter effects, you all get to see the arty results. All very well, and "a beautiful way to share your world" as the Instagram rhetoric goes.
The usual Likes and Comments are thrown around, and all is hunky dory in our social world — thanks to Instagram.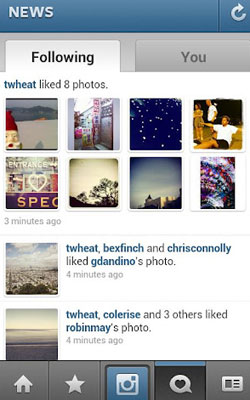 The result is a clever, socially networked emphasis on images, rather than a textual Facebook-like description of what kind of coffee you had that morning, and it takes the concept of sharing images via Facebook one step further. It also adds more dynamism than the now static-feeling Flickr account.
The Filters
Here's the potential downside though — the filters. There are just 18 filters in all, along with one "Lux" effect that adds vibrancy to each filter, making a total of 36 — along with resplendent frames.
App Vignette, on the other hand has 76 effects, and Androidslide's Camera Zoom FX has multiple add-on effect bundles for its Android app.
So, where's the creativity? If creating arty pictures is simply a matter of choosing one filter out of a measley18, can that really be called creative? I'll leave that question for time to decide.
The Test
Meanwhile, I decided to see if Instagram could make me a better photographer. My test was to take the worst possible shot I could, complete with poor composition and overexposure, by pointing the not-very-good tablet lens vaguely into the sun, and focusing on a lousy subject matter: a grimy, grey Los Angeles surface street during a hazy Friday afternoon rush hour.
I took the rather dull shot, and I'm please to be able to report that despite trying all of the filters and their respective Lux setting, the shot was still rubbish and of no commercial, artistic, or other value whatsoever.
Therefore, I think we can assume that art does indeed have a future, and it may not be Instagram-driven.
I recommend Instagram, though, if you have friends who are using it and want to take advantage of the sharing features.