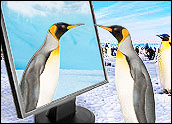 Though theSouthern California Linux Expo, or SCALE, really doesn't get going in earnest until Saturday, it's already clear this is no Macworld.
First of all, the Linux community doesn't have a charismatic marketing genius like Steve Jobs hawking products on a stage with a three-story screen behind him and an audiovisual program to make U2 jealous.
No, we've got Linus Torvalds and Richard Stallman — and they're not here.
Open Source Gender Barrier?
While the folks attending Macworld had the Macbook Air to gawk at, here at SCALE the oohs and aahs were reserved for a pair of XO laptops that were spotted outside one of the sessions. There also was a sighting of an Asus Eee PC. Yeah, this is definitely a Linux crowd.
One thing that surprised me: an unexpected preponderance of MacBooks. Hmm.
While Friday's programming at SCALE may be relatively subdued, there's no lack of substance. There are three distinct educational tracks: open source in education; open source in healthcare; and women in open source. Faced with a need to focus my efforts, I wrote off the women in open source track wholesale.
I figure, if we can have a woman running for president, we damn well better have women running Linux on their machines — and contributing code to open source projects and managing data centers running Linux servers.
However, the open source in education track has proven interesting. Elliot Jordan, who does work for the Los Angeles and Burbank school districts, opened with a session that provided a good overview of open source software's history and practical applications, especially for education. I walked out of there with the names of a couple of open source apps that I'm going to try out.
Tool vs. Product
One theme I've noticed in listening to the presentations in the educational sessions: A lot of the discussion is about using effective software tools to accomplish educational goals. That is, first and foremost, the software is effective — and oh, by the way, it's open source.
The real advantages of the particular applications under discussion are the cost — free, usually — and the quick responsiveness of the developer community behind each of the programs.
One session, for example, was on usingFreemind — an open source mind-mapping application — in educational endeavors.
There are many perfectly good proprietary programs out there that do similar things, but we were talking specifically about Freemind. Why? Because it's open source and this is a Linux conference? Partly — but also because it's free, and educators and students are forced to live within restrictive budgets. Who wants to spend US$350 for one of the proprietary products when you can go to Sourceforge and have essentially the same thing for free?
This is what Richard Stallman and Linus Torvalds had in mind when they started this whole thing — the idea that software is a tool, not a product. It exists to help us learn and discover more about the world around us, and then to share that knowledge with everyone else.
Someone ought to teach that to Steve Jobs.
Click here to e-mail Jason Z. Cohen.