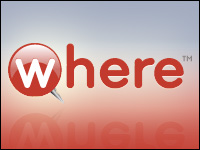 Where is a location-based application that's been around for a while in BlackBerry and iPhone versions, as well as for the Symbian S60 platform. Now, there's an Android version, which is free and available at the Android Market, Handango and MobiHand.Where aggregates content from a variety of content providers, and they're all location-based. Need a fill-up, or a cup of coffee, or maybe a quick dozen roses? No problem.
The main page is a grid of icons. There's one for Yelp, which brings up a list of Yelp categories such as restaurants, home services and shopping. You can select a category to browse the listings of nearby businesses or search via the search bar at the top.
How's the Weather?
The main page also has a weather icon, which offers weather-related content from AccuWeather. You can choose your current location or add another location to check out. If you're planning a trip to Phoenix, for example, touch "+ Add USA city" and a dialog box allows you to type in a city name or ZIP code. Each location's page brings up two tabs: Now and Forecast. It's going to be 77 and sunny this weekend in Phoenix, in case you were wondering. The forecast goes nine days out.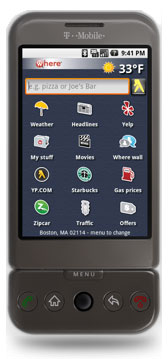 Also on the main page is a search bar, which ties in to YP.com yellow pages listings. There's also an icon below that is very similar to the Yelp interface, with browsable categories and a search bar at the top. The categories are a little different and include ATMs, airports and hotels.
Cup of Joe
There's a Starbucks icon that gives you the location and phone number of several Starbucks shops closest to where you are, and it'll map out directions as well so you can find the shortest path to your caffeine fix. And there's a gas prices icon that does the same thing and also groups the listings based on the lowest price for the grade of fuel you select (87, 89, 91 or diesel).
Where has headlines by Topix, which for the San Fernando Valley area of Los Angeles offered news from the Los Angeles Times, San Bernardino Sun, Sacramento Bee, Jewish Journal and a good variety of other news sources. They appear to have been grouped by keyword, the keywords being the names of the city you're in and surrounding towns.
When in the headlines feed, you can click and hold on a story to get options. You can write on the story's wall, kind of a comment area specific to that story. You also can view the full story. However, when I tried to view a story out of the Los Angeles Times, I was only taken to the Times' front page, not the story itself.
Minor Bug
One thing I found a bit buggy was the way the categories display on the Yelp and YP.com pages. When you scroll, the white background turns black and the text disappears, though the icon on the left stays in place. I'm sure the brilliant developers at uLocate will fix this in a subsequent release.
Really, though, those are the only two things I could find to criticize about Where. It's a worthwhile application overall. What I like best is that Where aggregates just about all of the location-based content you'd like to see — restaurants, entertainment, gas prices, news — and it's all in one place.